Nawazuddin Siddiqui affected by self created CONTROVERSIES?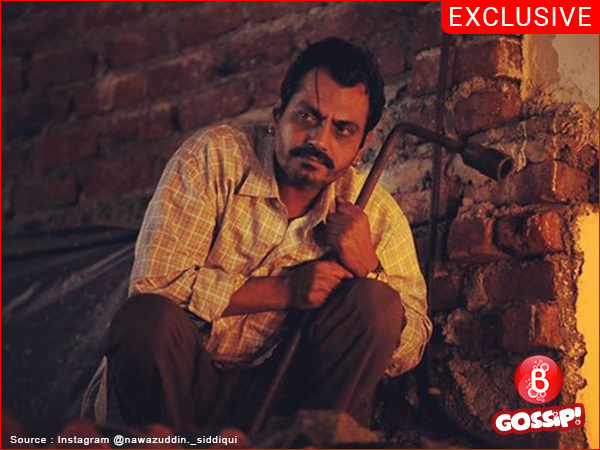 Nawazuddin Siddiqui is a man who has always been in news since his big break in 'Gangs of Wasseypur' which released in 2012. And since then, there has been no looking back for the man who has been associated with the likes of Shah Rukh Khan, Salman Khan and Aamir Khan in 'Raees', 'Bajrangi Bhaijaan' and 'Talaash' respectively. But of late, the actor is in the news post the release of his controversial biography 'An Ordinary Life' which Nawaz had to withdraw post his ex-girlfriends Niharika Singh and Sunita Rajwar, who objected on the book's release. Latter even filed a legal notice against him and demanded a compensation of two Crores.
Nawazuddin even took to social media to apologise and shared the news of withdrawing the book.
Going by the latest developments, the controversy has affected Nawazuddin Siddiqui very much on a personal and professional level. And now, we have exclusively got to know that filmmakers who earlier used to que up to have Nawaz in their film are now avoiding having him on board. Currently, no new film is being offered to the 'Munna Michael' star. Adding to his woes the brands who have associated themselves with Nawaz are now thinking over renewing their contract with him and most of them are not in favour of continuing as they feel Nawaz's association is bringing negative publicity.
Because of all the hullabaloo, Nawaz has been avoiding media. He has even skipped media interactions for his upcoming movie 'Monsoon Shootout' which was digitally launched by our Desi Girl Priyanka Chopra from New York. (Also Read: Monsoon Shootout: Priyanka digitally launches Nawazuddin-starrer trailer from NY )
Well, we hope Nawazuddin will deal with all the controversies and will try to come out clean.
On work front, Nawazuddin is currently shooting for Sacred Games and recently wrapped shooting for Ritesh Batra's 'Photographer'. Going by the latest reports, Nawaz will be seen opposite Hrithik Roshan in hit fourth installment of hit 'Krish' franchise.
Irrfan Khan to make a public appearance after his recovery ?
Earlier this year, when Irrfan Khan shared the news of him being diagnosed with Neuroendocrine Tumor, his fans around the world were shattered. Soon after the diagnosis, the actor left for the United Kingdom to proceed with his treatment. Since two months, there was no word from the versatile actor.
Only a few days back, the 'Hindi Medium' actor marked his comeback on Twitter, sending his best wishes to the cast of his upcoming film 'Karwaan'.(Also Read:Irrfan Khan shares a tweet after a period of 2 months)
Here's what the actor wrote-
Beginnings have the innocence that experience can't buy. My best wishes to @dulQuer , @mipalkar for joining the karwaan. ' Two karwaans ' …. Mine and the movie !! @MrAkvarious @RSVPMovies @RonnieScrewvala pic.twitter.com/QoKe6npkMQ

— Irrfan (@irrfank) May 16, 2018
There is yet another reason for all Irrfan Khan's fans to rejoice! It is being reported that the actor is on the Road to recovery. Irrfan might return to Mumbai to promote his upcoming venture. Akarsh Khurana, the director of 'Karwaan', has also hinted at the same.
He told an online portal, "We are all looking forward to Irrfan's return. Irrfan's performance in 'Karwaan' is expectedly outstanding. Working with him was a dream come true. I was intimidated at first but by the third or fourth day we had a great rapport and then on it was very comfortable and amazing."
Apart from Irrfan, the 'Karwaan' also features South star Dulquer Salmaan. The film will be out in cinemas on 10th August.
EXCLUSIVE: Neha Dhupia is pregnant, confirms a source
Right after the big fat wedding of Sonam Kapoor and Anand Ahuja was culminated two weeks back, there was a sudden news that surprised everyone. The news about Neha Dhupia's marriage to Angad Bedi. While there were already reports about the two being together for sometime, the urgency of tying the knot had left many wondering for the reason.
A source close to the actress tells us, "Neha is pregnant and the news will come out in a while. The reason why they got married so quickly was because of this." Previously, Angad was in a long term relationship with Nora Fatehi but broke up soon after. Apparently he had started dating Neha only around a few months back but now claim that they have been seeing each other for two years. (Also Read: Neha Dhupia slams a troll who took a dig at her marriage to Angad Bedi)
Another actress friend of Angad's questions, "What was he doing with Nora if he was with Neha all this while? Why didn't Neha object to Angad appearing on red carpets with Nora?"
Even if you look at most pictures from or post the wedding, you will realize that Neha is trying to cover her belly. Even the clothes that she has been wearing off late are loose. Whatever the reasons be, we wish the couple a happy married life ahead.