Amaal Mallik vs Anu Malik: An open letter over song credit issues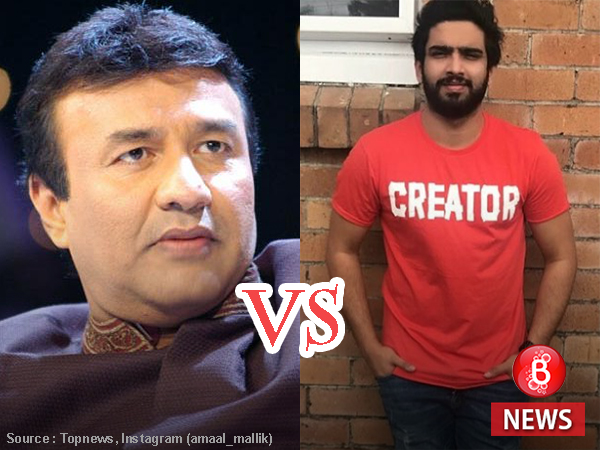 It's the trend of remakes and almost every other movie has at least one song that is a remake of an old hit number. This was the same case with Rohit Shetty's recently released comic caper 'Golmaal Again'. A song in the movie 'Maine Tujhko Dekha' is a recreated version of the popular track 'Neend Churayi Meri' from 'Ishq' (1997). However, the song from 'Ishq' that was composed by Anu Malik was also not an original and was also inspired by another Hollywood song 'Linear – Sending all my love'.
Coming back to 2017, Anu Malik is mighty miffed with his nephew Amaal Mallik for not giving him credits in the new song. Speaking with Bombay Times, he said, "If you want to give a twist to a song, I have no problem, but don't forget to mention the original composer's name. I wish Amaal all the best, but it will always be an Anu Malik tune. The younger generation, which has never heard that song, will think this is the original composer. It is fine to recreate, but don't forget to credit the original composers. Thankfully, people know who the composer is, so it is a great feeling." (Also Read: Amaal on working with brother Armaan: It's a godsent combination)
Not the one to stay quiet, Amaal hit back at his uncle with a long post on Facebook. He wrote, "The YouTube video of 'Maine Tujhko Dekha' my revamped version of the song 'Neend Churai' from the 1997 film ISHQ, duly credits the composer Anu Malik and lyricist Rahat Indori. A decision to redo an old song, get the rights from the other labels is something movie producers and the labels take care of, not me, but I make sure its done right.
It was only last week through social media that I realized Anu Malik's song is a direct lift from Linear – Sending All My Love and is a bar to bar rehashed by him (Anu Malik) back in 1997. I don't understand, how can a composer demand me to call him and take his permission when this song is not even his own original composition. Nevertheless, the kindness has been shown in the youtube credits. I'm just here doing my job & following my directors' vision. If my director wants me to recreate a song, I do so and add my own touch to it. I don't believe in recreating a track as is and hence have introduced two new stanzas – A New Mukhda & A New Antra & only utilised the hook line from the old 'neend churai' song (which actually isn't even an original song). It makes no point dishing out the same thing yet again, it's very simple !!! A contribution, no matter how small, must be made to the existing melody, at least this is my way of approaching a recreation. And just to let everyone know, I have made my share of original music over the last 2 years and I don't need to ride on the success of any body's song… The accusation that my uncle is trying to make stating that I'm trying to make his song mine is baseless. I'm beyond all of that, and he is sadly just blowing things out of proportion for reasons best known to him…. I rest my case :)"
Here's the post:
The YouTube video of 'Maine Tujhko Dekha' my revamped version of the song 'Neend Churai' from the 1997 film ISHQ, duly…

Posted by Amaal Mallik on 26 ऑक्टोबर 2017
We think this war of words might just end up in yet another family drama.