After Sonu Sood, Amitabh Bachchan and Swara Bhasker help migrant workers reach home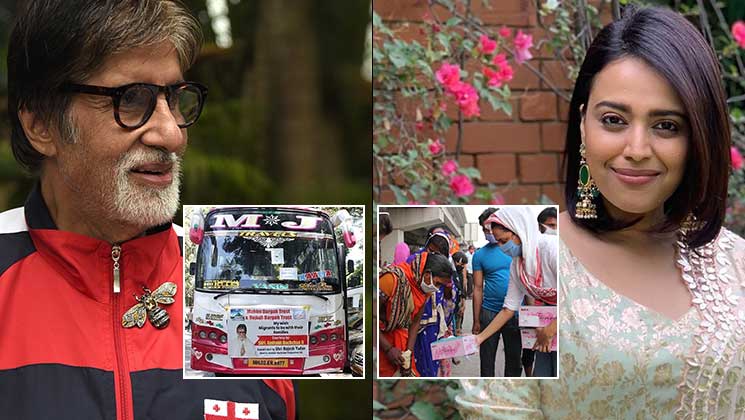 Image Source - Instagram, Twitter
Sonu Sood has set an example for the privileged out there who wants to help the stranded migrant workers. Now, Amitabh Bachchan and Swara Bhasker have also come forward to help migrants reach their home states. Taking a cue from Sonu, Swara who is currently at her hometown Delhi is doing her bit to send the daily wage migrant labourers back to their homes.
Recently, Swara Bhasker launched an initiative to help these people. She along with her team collected names of daily wage workers, coordinated with the Delhi government and made sure that migrants get train tickets. She has sent around 1,350 workers to their homes in Uttar Pradesh and Bihar. She had also arranged for footwear for the migrants.
I'm very grateful to @ActionShoes & #AthleoShoes who've kindly contributed 500 pairs of shoes toward migrant relief efforts. These were distributed by on-ground @karwanemohabbat volunteers. Deep gratitude again to Vishesh Agrawal, SK Sharma & Shaival Sahay #notanad #notsponsored pic.twitter.com/GXQGuHBvCU

— Swara Bhasker (@ReallySwara) May 25, 2020
In an interview with Times Now, Swara said the crisis the migrants are facing is the 'most shameful incident of our times'. She further said, "At a time when lakhs of people are out on the streets, facing extreme hardship, I feel ashamed sitting at home. This crisis has exposed the defects in our system."
Also, Amitabh Bachchan has arranged 10 buses for the migrant workers of his home state Uttar Pradesh. The buses left today from Haji Ali, Mumbai. Big B has collaborated with Haji Ali Trust and Pir Makhdum Saheb Trust to distribute 4,500 packets of cooked food on a daily basis. It has started on March 28 and still going on in places like Haji Ali Dargah, Arab Galli, and Antop Hill among others.
This is really a great initiative and more celebs should join hands to help the migrant workers reach their homes.
Also Read: Migrant woman names her newborn baby Sonu Sood after reaching Darbhanga; actor's reaction will win your heart