Arjun Kapoor trolls Katrina Kaif for wearing sunglasses at night; check out his hilarious comment
Image Source - Instagram
Arjun Kapoor is surely one of the funniest men in Bollywood. Even though his career is not going great guns at the moment, he is finding ways to keep himself amused.
Recently, he posted a funny comment on Katrina Kaif's post. First, check out Katrina Kaif's post:
Now, take a look at Arjun Kapoor's comment on the picture: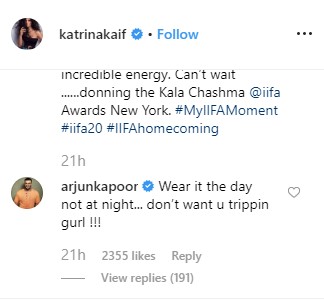 Hahaha, isn't he too funny?
In an interview with Reuters, Arjun spoke up about being on social media and said, "I joined social media after '2 States' . I was oblivious to what people thought of me on social media till then. I like to keep in touch with my fans. It came from a place of wanting to join to interact with the fans. We were all naïve when we joined social media, thinking it'll only be love. Then we all faced brickbats, because social media became important and trolls became relevant. Listen, it's a very enjoyable medium – I enjoy putting myself out there. But you also have to remember that it is not real."
We hope that Arjun keeps his sense of humour intact and resurrects his career like a Boss.
For more such updates, you guys stay tuned to Bollywood Bubble.
Also read: Arjun Kapoor trolls Kartik Aryan in the most hilarious way; details inside