'Badhaai Ho' writer Jyoti Kapoor blasts Filmfare for removing her name from the writer's list
Image Source - twitter
Bollywood and awards have always shared an acrimonious relationship due to a variety of reasons. Many prominent stars have fallen out with awards shows and there is always some controversy around the corner. Now, writer Jyoti Kapoor is miffed at Filmfare awards for this year's nominations.
Now, a controversy has recently come up and it involves the writer of Ayushmann Khurrana starrer 'Badhaai Ho', Jyoti Kapoor. Jyoti took to her Facebook to post a very long message slamming Filmfare for their unprofessionalism.
But, now the Facebook post is no longer available. Here is the screenshot of Jyoti's displeasure, which she made it abundantly clear.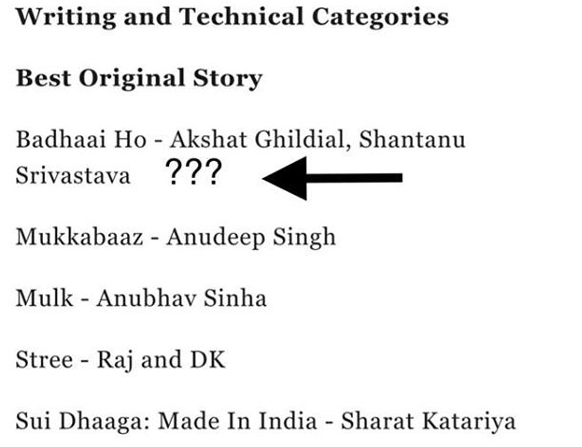 Jyoti Kapoor is one of the three writers of 'Badhaai Ho' along with Akshat Ghildial and Shantanu Shrivastava. This film is nominated for the best original story.
While Jyoti's name was in the list when the nominations list released, in less than 12 hours, her name was removed from the list of writers. Jyoti put her points forth and asked the 'Gods of Media' why her name was omitted from the list. She also pointed out the importance of nominations and awards for the ones who work behind the screens.
Hopefully, the jury and Jyoti Kapoor can communicate to sort out their differences. 'Badhaai Ho' was one of the most entertaining and commercially successful films of 2018 and Ayushmann Khurrana did a splendid job in the film.
Stay tuned to Bollywood Bubble for all the latest news and updates.
Also Read: Watch: Ayushmann Khurrana recites a heartfelt poem to celebrate Women's Day