Kareena Kapoor asks Sara if she ever had one-night stand or sent naughty texts; The latter's response might surprise you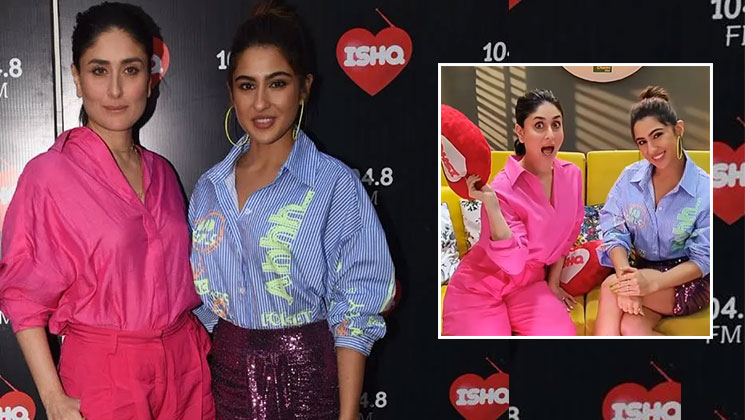 Image Source - Instagram
Sara Ali Khan is all set to enthral the audience with her upcoming film 'Love Aaj Kal'. This Imtiaz Ali directorial revolves around two love stories, one which is set in the 90s and the second set in contemporary times. Sara appeared on her step-mother Kareena Kapoor Khan's radio chat show, 'What Women Want'.
On the show, Sara and Kareena discussed a range of topics which included modern relationships. And it was then when Bebo asked Sara if she ever had a one-night stand or sent naughty texts. The 'Kedarnath' actress' response will pique your curiosity.
During a segment, Bebo asked Sara if she has ever done Ghosting to which she replied, "No, I haven't done that. I reply to everybody. I reply to even those that you shouldn't reply to. I'm one of those."
Kareena then went on to say, "I don't want to know this or I hope your father (Saif) is not listening but have you ever sent naughty texts?". And guess what? when Sara admitted that she has sent such texts. A surprised Bebo then asks, "Can I tell him?" to which Sara replies, "Sure, I mean he might watch it." 
Further, the 'Jab We Met' actress asked, "I don't think I should be asking you this question but I don't know. I mean, we're in a modern family. A one-night stand?" and Sara replied "Never!"
We certainly love this modern family and the kind of cool bond Sara shares with her step-mom Kareena. How we wish to see them share the screen space someday. Hope some filmmaker is reading this.
Also Read: Sara Ali Khan on her parents' divorce: I am happy that instead of one toxic house I have two happy homes