CBI: Rhea Chakraborty's FIR against Sushant Singh Rajput's sisters is 'vitiated and bad in law'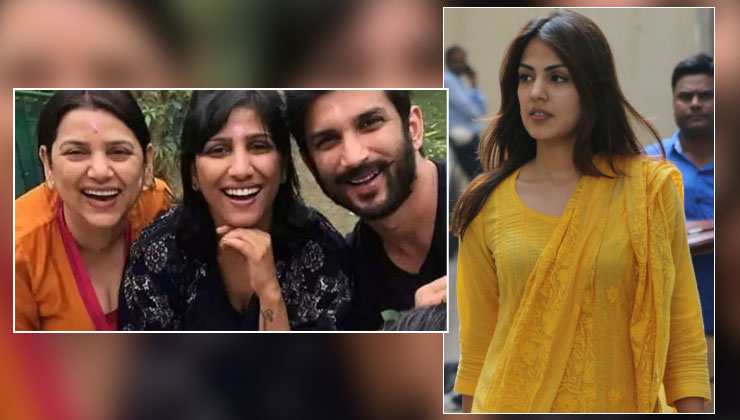 Image Source - Instagram
Based on Rhea Chakraborty's complaint, an FIR was filed against Sushant Singh Rajput's sisters Priyanka and Meetu Singh. But Central Bureau Investigation (CBI) has now said that Rhea's FIR is 'vitiated and bad in law'. CBI has also opposed the FIR in the Bombay High Court.
After Rhea's complaint, an FIR was filed by the Mumbai Police against Sushant's sisters and Dr. Tarun Kumar of Ram Manohar Lohiya Hospital. Rhea's complaint was based on Sushant's Whatsapp texts with his sister Priyanka on June 8. Rhea had claimed that Priyanka had made use of a fabricated prescription to get Sushant access to medicines that were banned under the Narcotic Drugs and Psychotropic Substances Act.
Now, according to a report by NDTV, the CBI has called Rhea's FIR against Sushant's sisters as 'bad in law' because they are already probing Sushant's case and there was no need for the Mumbai Police to register a second FIR in this case.
FIR Against Sushant Rajput's Sisters By #RheaChakraborty "Vitiated": CBI @arvindgunasekar reports

Read more: https://t.co/Fs6lMehi5o pic.twitter.com/XS63w3y3NY

— NDTV (@ndtv) October 28, 2020
The CBI also stated that the allegations made by Rhea in the FIR are "presumptive and speculative". Also, if they had any information about the case then they should have shared with the CBI instead of filing a separate FIR.
Stay tuned to this space to know all the updates about this case.
Also Read: Rhea Chakraborty requests Bombay HC to dismiss Sushant Singh Rajput's sisters' plea of quashing FIR against them