Cirkus Box Office: Ranveer Singh starrer does miserably in first week collections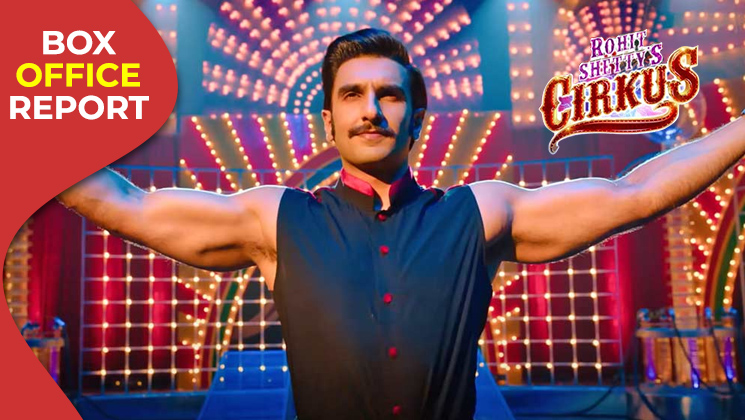 Image Source - Instagram
The Rohit Shetty directorial Cirkus has faired miserably in terms of box office collections, in the first week. The film stars Ranveer Singh, Jacqueline Fernandes, Pooja Hegde in key roles and was released in theatres on December 23. The first week box office collections of Cirkus are out and the movie has collected less than 30 crore nett.
The Ranveer Singh starrer had a horrible first week, as per a report by Box Office India. The film made a total collection of 29.25 crore nett in the first week of its release. Cirkus made a collection of a little under 2 crore nett on the first Thursday. The film made 1.75 crore nett at the box office.
According to the report, despite the release of Cirkus in the Holiday week, the festive season failed to help the movie, in terms of collections. The film saw another major drop in the collections on Day 8, although the evenings maybe better, said the report. As per the report, "If the film fails to get 1 crore nett up on the board today then it will not even reach the 40 crore nett mark."
View this post on Instagram
Here are the box office collections of Cirkus so far:
Friday – 6,50,00,000 apprx
Saturday – 6,25,00,000 apprx
Sunday – 8,00,00,000 apprx
Monday – 2,50,00,000 apprx
Tuesday – 2,25,00,000 apprx
Wednesday – 2,00,00,000 apprx
Thursday – 1,75,00,000 apprx
TOTAL – 29,25,00,000 apprx
Meanwhile, speaking of the release of Cirkus on other platforms, the movie is expected to be saved with the satellite digital and music releases, said the report. As per the report, the movie will cover its costs from revenue from all sources, collecting around 155-160 crore. However, according to the report, the collections of Cirkus "will not cover the director fee which can be pegged in the range of 30-40 crore."
Bollywood Bubble gave the movie Cirkus a rating of three stars in the review. The film also stars Sanjay Mishra, Johnny Lever, Sanjay Mishra, among others.
Also Read: Cirkus Box Office: Ranveer Singh starrer shows no significant growth on day 6, struggles to cross 30 cr mark