Blast from the past: When Bofors scandal made Amitabh Bachchan cry inconsolably
In the book Sangharsh Path: Samajwadi Purodha Brijbhushan Tiwari Par Ek Ekagra., Jaya Bachchan had recalled an episode from Big B's life when he cried in front of his parents, during this scam. She narrated, "One day my father-in-law (late poet Harivansh Rai Bachchan) called him (Amitabh) and asked him if the stories published in papers were true. Amitabh denied them and said they all were baseless. But after returning to his room, he broke down because of a situation where his dad had to ask him to clear the air on the issue."
After 25 years of this scam that the former Swedish police chief Sten Lindstrom also gave out an interview wherein he said that Amitabh Bachchan had nothing to do with this scam. "Indian investigators planted the Bachchan angle", Sten Lindstrom had said in his explosive interview.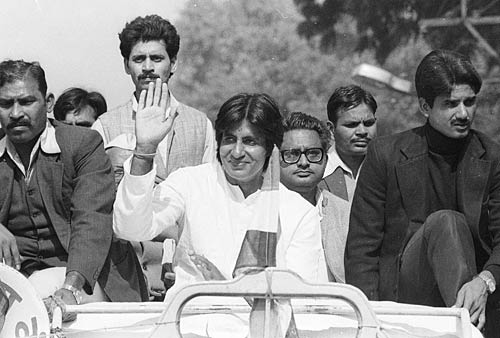 Post this scandal, Amitabh Bachchan gave up on his thoughts of entering politics. He kept his distance from the ugly world of politics. Even the relationship that the Bachchan's served with Gandhi's turned sour after this scandal.In his blog, Big B had recalled the trauma and said, "When my family and I were loaded with the accusations of the Bofors Scandal, they painted every aspect of our existence with the darkest colours ever… 25 years later, the prosecutor on the event, makes public the truth – the name of the Bachchans were 'planted'!! 25 years later…!!"
The newspaper did apologize for their misconduct, but at the same time they made a statement that it was Indian Investigators who planted the name of Amitabh Bachchan in this scandal. This became a breaking news all over the globe. This trauma of being called a corrupt man was given to Amitabh Bachchan by none other than the Indian investigative team who was investigation this case of corruption.This old interview of Amitabh Bachchan reveals all that he went through.https://youtu.be/2trqGcjWavw
Following this, Amitabh Bachchan planned to sue the officials of Bofors. He then realised that this news was first published in an English Newspaper called 'Dagens Nyheter'. He then filed a case against them in London and this case was called the Libel Case. Amitabh Bachchan demanded a proof from the newspaper to know on what basis they levied the allegations. The newspaper had no proof and Mr Bachchan won the case.
In 1990's when the news of Indian politicians being paid kickback by Swedish Company AB Bofors had made it to the headlines, a certain newspaper carried the name of Amitabh Bachchan too. At that time Amitabh Bachchan served close ties with the Gandhis and it was being said that Amitabh Bachchan too was involved in this corrupt deal.