Did you know? Karan Johar made his acting debut with a TV serial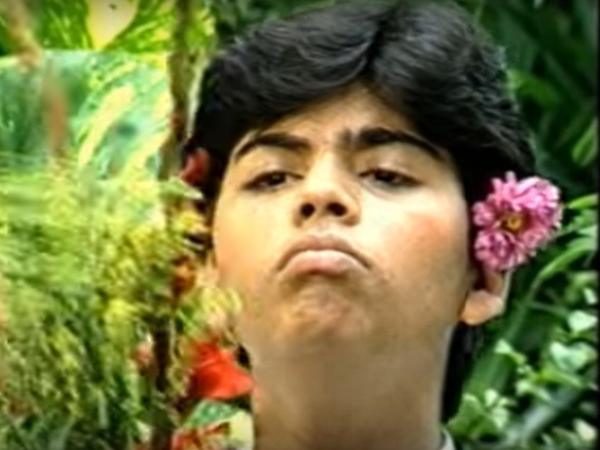 Karan Johar. The name instantly brings to mind a writer, director, a producer and even the most entertaining host. But there's one more side to this multi-talented person which is acting. Many of his fans and moviegoers would remember that he had made a small appearance in 'Dilwale Dulhania Le Jayenge' as Shah Rukh Khan's best friend. And after playing a lot of cameo roles in a handful of films as himself, Karan Johar debuted in a full fledged role with the movie 'Bombay Velvet' . This Anurag Kashyap-film had seen him playing an antagonist. However, not many would know that Karan Johar had faced the camera as an actor for the first time in the year 1989 with a television serial 'Indradhanush'.
This was a 13 episodes sci-fi and fantasy series directed by Aanand Mahendroo which saw Karan playing the role of a school going kid Shrikant who is the best friend of the protagonists played by actors Akshay Anand andJitendra Rajpal.
Have a look at this picture of Karan Johar from the serial 'Indradhanush' here:
Also Read:WOAH! Salman Khan, Akshay Kumar and Karan Johar collaborate for a film
Though the serial remained popular at the time of its airing, Karan Johar only came in prominence post 'Dilwale Dulhania Le Jayenge' which was followed by his directorial debut 'Kuch Kuch Hota Hai' in the year 1998. And then there's no looking back for him.
Currently, Johar has just delivered a blockbuster with his venture 'Ae Dil Hai Mushkil' which released last year. It featured actors Aishwarya Rai Bachchan, Ranbir Kapoor and Anushka Sharma.
Karan Singh Grover's marriages leads to actor & now a 2018 Dadasaheb Phalke Award
Image Source - Indian Express & Bolly Shaadis
While his body is every man's dream, it is also every girl's fantasy. The same goes for his lovely ex-wife.
Friends, Karan Singh Grover has recently been honored with a Dadasaheb Phalke Award on April 20, 2018, in Mumbai under the guidance of PMO and CBFC.
OMG! Is what one would say. However, there still lies the Maha Shock of his ex-wife, Jennifer Winget receiving one too.
Stylish as he may seem, he's become the talk of the town for just this week, grabbing all eyes at the ceremony. However, questions do pop up in the human mind asking – Have the standards of the Dadasaheb Phalke Awards gone that low? Who knew that so-called working actors could receive awards too? (Also Read:Karan Singh Grover To Receive 'Dadasaheb Phalke Award')
Karan's journey from a regular employee to a handsome actor is more like a flop script of a Hindi movie, where one feels that they've wasted Rs 180/- on buying a ticket. It feels like the popcorn would taste better on the Road compared to a movie theatre.
From a Punjabi family, Karan Singh Grover grows up to be a Hotel Management student and then a Marketing Executive in Mumbai. In 2004, Karan's journey took to many places, where the best role played at a serial named 'Qubool Hai' and a movie named 'Hate Story 3' to be better than great in 2015.
Calling for what's needed, The Glam Girl, Jennifer Winget has done lots since her divorce. For sure, she's excelled as a Television actress and a fashion diva with her right attitude and looks that are worth crores. Still, there lies a question unanswered after this event.
Karan Singh Grover, who was previously married to Jennifer Winget and Shraddha Nigam is now married to Bipasha Basu. As an ex-wife and Television actress, it was she [Jennifer Winget], who brought him back into the limelight after his failed marriage with Shraddha.
However, after Karan and Jennifer filed for divorce, it was Bipasha Basu's turn for a long life love session with Karan, which gave an announcement in public about the couple soon to be married. Many stars such as Mr & Mrs. Dutt, the Bachchans, and the Khans – were seen at Karan and Bipasha's reception.
Furthermore, Karan Singh Grover's movie 'Alone' was quite unsatisfying to watch. Does this mean that Bipasha Basu brought her husband into the limelight where Bollywood's greatest stars roam?
Karan Singh takes on his past to the future, and his relationship with Bipasha never really looked like a positive. What's more? Is Karan's interview with BollywoodLife. Karan went all out to say that his marriage with Jennifer was a mistake! Not only that, he added that some people are better off as friends and should not take it to the next level.
What must have Jennifer felt then? And she ever felt like giving it back to Karan Singh Grover? But, what she feels now is the real achievement for her work. Looking at the past, this is the biggest question that remains unanswered till today – Was she really a mistake for Karan? Or is Karan a mistake for 3 women including Bipasha Basu?
Nodding on it, Karan's body and face will still make a great picture on a magazine cover. But, these 3 Musketeers have been with him as partners in both personal and professional life. For after seeing all that's happened in his life, and now at the Dadasaheb Phalke Awards just shows that giving Karan an award wasn't such a great idea. For there were and are many other actors who deserved the award and its category.
Throwback Thursday: When Sanjay Dutt confessed his wish to marry Madhuri Dixit
Sanjay Dutt and Madhuri Dixit's reunion after 20 years with Karan Johar's 'Kalank' has become the hot topic of discussion. The duo were rumoured to have dated each other for some time in 1990s but both have always remained tight lipped about it.
The onscreen hit jodi is happily married to their respective spouses, Sanjay's love for Manyata is known to all. She is like a tower of strength for him. Madhuri too is happily married to Sriram Madhav Nene.
But seems like the actor still has a soft corner for his 'Khalnayak' co-star. Here's a video of Sanjay confessing how he still doesn't mind marrying Madhuri….'IF' given a choice. This was at the Goa Fest last year when he was asked a hypothetical question on who would he want to marry if given a choice and he quipped, "Anybody knows Maanyata Dutt? Nobody knows? But…I would like to marry Madhuri Dixit. "
Watch the video here:
It's not like the actor said it seriously. We know the immense love he shares with his wife. (Also Check: 'Kalank' the film that was to star Sridevi, goes on floor)
Speaking of 'Kalank' it also stars Alia Bhatt, Varun Dhawan, Aditya Roy Kapur and Sonakshi Sinha. The film will hit screens on April 19, 2019.