To enter Bollywood or not: When Preity made the decision in a unique way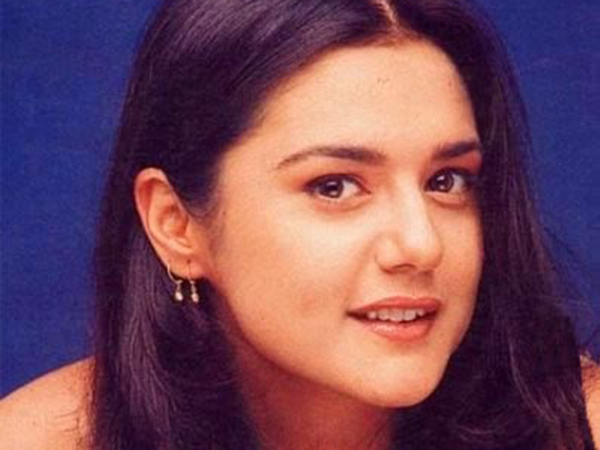 Destiny plays a very important role in life. There are so many aspiring actors and technicians who struggle to make it to the movies. There are many who give auditions after auditions, and still don't land up with anything substantial, and then there are those who just walk in and get noticed. Some even get the chance of assisting on the sets, and work their way up from there. Recently, we stumbled upon an old interview of an actress who landed up getting her dream debut in Bollywood. However, her way of making the decision was a unique one.
It was none other than actress Preity Zinta. She is one of those few who have made a mark for herself without any backing or connections in the film industry. From being an outsider to star, Preity has indeed come a long way in Bollywood. The actress had made her acting debut in filmmaker Mani Ratnam's 'Dil Se..' (1998). But not many would be aware that the actress was to make her debut with filmmaker Shekhar Kapur in his film 'Tara Rum Pum Pum'. Preity appeared as the celebrity guest on host Simi Garewal's talk show 'Rendezvous with Simi Garewal'. It was when she was in conversation with the veteran actress-cum-host, that Preity revealed that she had really been lucky, and that things had gone her way, at least till that point of time. Simi immediately quipped if it was due to the toss of a coin. A surprised Preity then exclaimed, "Yes! How do you know that." And it was then, that the dimpled actress went on to reveal the incident which led her to choose her career in Bollywood. (Also Read:Preity Zinta shares a horrifying incident when she got pinched at the wrong place)
Preity said on the show, "It sounds like the perfect story, but no. I think when I met Shekhar, when he wanted to sign me up for 'Tara Rum Pum Pum' and I was just like this little kid looking at Shekhar Kapur. And I just wanted to be cool, so I said okay if its destiny then I'll just flip this coin. I said, 'Heads, I will take film as a career and Tails I won't'."
Simi asked her as to what would she have done, had the coin landed on Tails, instead of Heads (leading Preity to choose her career). Preity replied immediately by saying, "I wouldn't have signed that film. I promise you." Simi was flabbergasted, and she asked a giggling Zinta, if she took the fact that she had been offered a movie, so lightly. Preity just smiled, and said, "Just for style, anything for style at that point."
Well, sadly that film 'Tara Rum Pum Pum' with filmmaker Shekhar Kapur couldn't see the light of day and was ultimately shelved. But, the actress went on to sign her first film 'Kya Kehna' (which was also delayed, but released eventually). Reportedly, it was Shekhar Kapur, who had recommended her name to Mani Ratnam while he was making 'Dil Se..', which eventually turned out to be her debut film.
At the end of the day, Preity Zinta continued to work in films and finally made a mark for herself.
Aren't we glad that the toss was in favour of her working in movies? We would really have missed that dimpled smile, and those fine skills and nuances of fine acting, that Preity brought on screen, with her.
Check out the full interview of Preity Zinta below:
When Sanjay Dutt didn't wake up for two days after taking drugs
Image Source - Instagram
Sunil and Nargis Dutt's son, Sanjay Dutt's life has been a roller-coaster ride. Born in 1959, Sanjay Dutt's life has always been under the media scanner. Though we know how eventful his life has been, after watching the trailer of his upcoming biopic 'Sanju', we all were quite surprised to know certain things about the various phases of this actor's life. The film will apparently highlight all the highs and lows of Sanjay Dutt's life in which his addiction to drugs will also form an integral part.
We came across an old video interview of the actor with veteran actress Simi Garewal from her show 'Rendezvous with Simi Garewal'. In this interview, the actor spilled the beans on how badly his life got affected by his addiction to drugs. He went on to narrate an incidence where he once sniffed Heroin and went on to sleep for straight two days! (Also Read:'Sanju': Rajkumar Hirani recreates a scene from 'Munna Bhai M.B.B.S' after 15 years!)
Sanjay woke up in the morning next day feeling extremely hungry. He asked his servant to make something for him but was shocked to see his servant cry. When Sanjay asked him why he was crying, the servant told him that he had woken up after two long days. This specific incident had left his entire family scared. After this episode, the actor understood that it was time to wake up and smell the coffee before it gets too late.
You can check out his full interview below:
The actor later went into rehabilitation and came out clean. 'Sanju', directed by Rajkumar Hirani, has Ranbir Kapoor playing Sanjay Dutt. Also starring Sonam Kapoor, Paresh Rawal, Vicky Kaushal, Manisha Koirala in pivotal roles, the film is all set to hit the silver screens on June 29. Till then stay tuned for more such interesting stories.
Ranbir Kapoor gave these many retakes for a scene in 'Saawariya'
Image Source - idiva
Director Sanjay Leela Bhansali and the word perfection go hand in hand. The man is extremely particular when it comes to his film and takes care of even the minutest details in every scene. This is also the reason why most of his films are blockbusters. One of the actors who was privileged enough to work with this man is none other than Ranbir Kapoor. Mr Kapoor made his Bollywood debut with SLB's directorial 'Saawariya'. Though the movie did not work wonders at the box office, it did give a fair amount of recognition to Ranbir.
In a recent interaction with senior journalist Anupama Chopra, the actor recalled his 'Saawariya' days and spoke about the no. of retakes he had to deliver for one particular scene in the song 'Jab Se Tere Naina.' (Also Read:In Pics: Lovebirds Ranbir Kapoor and Alia Bhatt visit Sanjay Dutt's residence)
The actor said," I started with Sanjay Leela Bhansali and he doesn't do anything less than 45 takes. So even if I had to turn my head, I probably had to give 50 takes. There was a shot in this so-called 'towel song' Jab Se Tere Naina, where I had to roll back on this chair and fall down and the towel had to fall in a certain way with my leg showing and there was one shot where I was lying down laughing and I had to get up and sing a song and he's very particular about what beat you catch, he's a very musical director – you fall on this beat, you lift your head here, you laugh here – everything is musical. I did 45 or 50 takes one day and my back really broke. The next morning when I came back, he said, 'No, I've not got it' and I had to do another 70 takes."
Well, that is something huge but then if you wish to get appreciation from a man like Bhansali, you ought to put in that much amount of effort.