Shekhar Suman – Anytime is good for political satire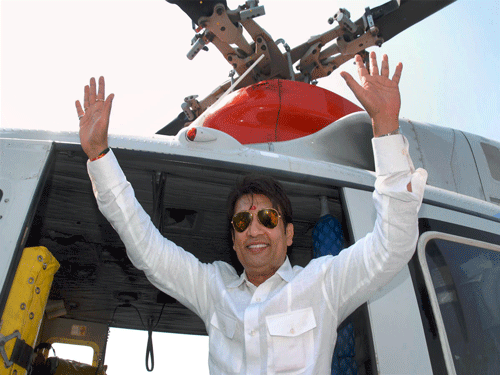 Anytime is good for political satire, according to actor-director Shekhar Suman, who had become a household name in the 1990s with his television shows like "Movers and Shakers" and "Poll Khol" that took a dig on politics among other social issues.
Shekhar, considered the pioneer of political satire on Indian television and performed in a play "Ek Mulaqaat" staged here recently in the national capital, says one can find a lot of issues, today as in the days gone by, that can add fodder to the craft.
"It's always a great time for political satire. But, then in late 90s there was a time when I had two great characters (former Prime Minister Atal Bihari) Vajpayee sahab and Lalu Prasad Yadav. Both diametrically opposite at different spectrums but were interesting characters. So I consider it was the most appropriate time, the ideal time for doing political satire. Even today there is so much to talk about.
But as I said it becomes a full time job. When I start doing it I have to get completely into it – writing and doing it," says Suman.
"I remember during 'Movers and Shakers' people would meet me at the airport and be surprised that nobody shot me yet for for the kind of stuff that I talked about?' I got away with blue murder! But I guess people were more tolerant then and probably they had a better sense of humour," says Suman, who had interviewed and derided many celebrities including politicians with his wit in his late-night talk show,
Having donned many hats including that of an actor, film director, theatre artiste, singer, politician and TV, the senior actor, however, is not keen on reviving his popular image of a political satirist because he does not want to repeat himself.
"Bas bas wahi to problem hai. Yehi to baat hai. Yahin pareshani aa jaati hai dikkat hoti hai. (This is it! This is where the problem arises.) I have been running away. I had a 20 year contract for 'Movers and Shakers' which I left because I thought it was killing the actor in me. Still when people meet me they ask why not? do the show again and I say because I have done that I would probably do it some other time but not now.
"Political satire is a nice craft, it is something that I like. But that is something that I have visited, I did and moved on. I could have done it all my life and made huge amount of money and become iconic just doing that, but I guess I am a wanderer. I cannot be straight jacketed and need to move out quickly. That is why I took up Direction and that has given me immense satisfaction. It's terribly creative," says Suman. .
The actor had last year helmed Hindi film "Heartless" featuring his son Adhyayan and is soon to announce two other film projects – 'Bombay Dyeing' based on a love story in the backdrop of the 1993 Bombay riots while the other is also a love story with underworld background.
Transitioning through different creative mediums over more than past thirty-years, the actor who shot to fame with the Girish Karnad-directed 1984-released 'Utsav' acknowledged having made some wrong choices in his career but insisted that happiness and not number game should be the pursuit for an actor.
"Yeah, so many times. I think we all are prone to making wrong choices. Sometimes we know sometimes we don't. It's all part of the going. There is no such thing as wrong or right. I think it's just experience," says Suman.
"The journey has been fantastic. If you set out to become number 1 or 2 or in the hierarchy you are in trouble.
Happiness should be the pursuit. Acting is my primary interest and passion. Direction gives me immense satisfaction. But we need to experiment. It's always better to shock the audience by donning different hats. An actor should be all encompassing.
"I am happy being wherever I am. What do people leave behind? They forget your legacy within 24 hours. All the best of heroes from Napoleon to Alexander all have come and gone nobody cares a damn. So I guess as long as you are living you should enjoy what you are doing. One should not get delusional to become the best. I do a lot of things that keep me happy and when I am catering to the audiences I feel terribly happy when they appreciate it. They just come and give a pat and a smile," he says.
Having ventured into the political territory as well, Suman, who contested against veteran actor and MP Shatrughan Sinha in last Lok Sabha elections in Bihar's Patna Sahib, has for the time being shut doors on politics but hasn't completely ruled out making a foray again.
"I don't plan my life…Politics is as good as anything and I keep my doors open. Tomorrow if politics helps me to be a better person or do something good for society or country, though they all sound so cliched, but definitely you need a platform to work and when politics elevates you that level when you can serve people then why not, yes. But not a hard-core politician but I can be a part of politics. Who knows? I am not counting myself out," he says.
Currently engaged in a theatre production "Ek Mulaqaat", a play based on lives of poets Sahir Ludhianvi and Amrita Pritam, the actor is coming up with a new TV show, besides prepping up for his two directorial film ventures.
Inputs by PTI