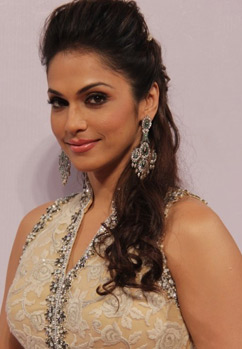 Nickname:Khallas Girl
Birthday19 September, 1976
Zodiac:Virgo
Fun Trivia:The reason behind the late actor Inder Kumar and wife Sonal's divorce was Isha Koppikar. Sonal alleged that Inder could not forget Isha even after they had filed for a divorce.
Isha Koppikar is an Indian film actress and model who was born in a Konkani-speaking Maharastrian family of learned academicians. After completing her college, she took part in the 1995 Miss India contest, and won the Miss Talent crown. She first rose to fame with her modeling shoot with Gautam Rajyadhaksa when she was still in Junior College. Isha is well-known for her debut movie Kaadhal Kavithai (1998) as she won a Filmfare Best Female Debut (Tamil). Her biggest Bollywood hit was Nikhil Advani's multi-starrer Salaam-e-Ishq in 2007 opposite Sohail Khan. Isha was involved in a controversy when she starred in the film named "Girlfriend", which was the story of two lesbian lovers – a subject that is still a taboo in India. She got married to hotelier Timmy Narang on November 29, 2009.
https://2.bp.blogspot.com/-6ibkt181pKw/VZqXi7SX-LI/AAAAAAAACw4/e5qXvR77Et0/s640/hot_bollywood_actress_isha_koppikar_17-other.jpg