Bollywood break ups: what's the fuss? it's okay to part ways and we should let them be!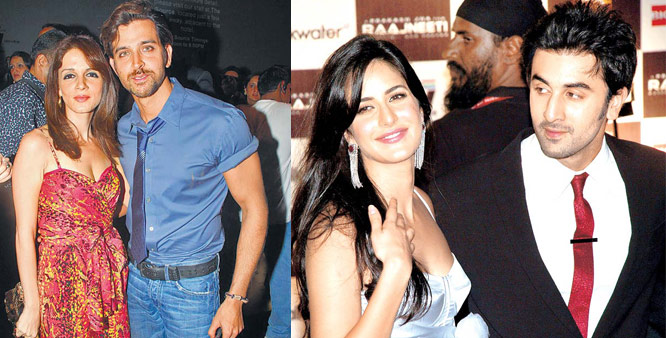 No wonder Indians are probably the most emotional community. So much that they work themselves up about everything; from Bollywood to Capitalism, from Feminism to Animal Rights, from Cricket to Kabaddi, and what not?
The latest addition to the list is the chain of splits Bollywood is witnessing. From Ranbir Kapoor & Katrina Kaif to Farhan Akhtar & Adhuna Akhtar and more, 'Break up session' is the new hot and everyone is busy assuming why so many relationships are falling apart. We don't blame you for this; but stop going 'WTF' each time a celebrity couple decides to part ways. Why? We will give you good reasons.
There are more than one psychological reasons why we find it so abnormal when a couple full of wealth and prosperity falls short of affection. Blame the common perception for this. We were never taught beyond a materialistic outlook. However, apply your brain and think. Why does any couple break up at all? Shift your attention to friends and family; shift your attention to the laymen like us and think why we let go of relationships we valued the most.
At times it's infidelity. At times it is due to things simply not working out. At times it is due to outer factors; stress, insufficient time to devote to the relationship, other priorities. At times it is mutual, at times it is not. Cool enough? Now try applying the same justifications before you freak out over your favourite celebrity couple parting ways.
No amount of money and wealth can either buy or take away humanly emotions. In a life of 4 meals a day and a 10 a.m-7 p.m job, you and I have to struggle hard to make relationships work, to keep our closed ones stuffed with happiness; and there's still so much to complain about. How tough it must be for people who have a few times more hectic schedules than what we lead, who live in a world where glamour is so momentary and hard-earned; where faith is so fragile? How tough is it to survive in a relationship where the outer world constantly pokes its nose inside?
Actually, blame ourselves. We hardly remember that celebrities are also made of blood, flesh and hormones. At the end of the day, the camera is shut. Make-ups are removed. Then, they become no different than us. They're sometimes hungry, sometimes stuffed. Sometimes happy, sometimes sad. They can be as vulnerable and insecure as we are. They crave togetherness, they crave space too. They too fear to lose, they too try to hold back. They too head home Alone. Each day is a 'wake up, get ready and show up' for them.  There's no place to hide and calm oneself.
Recall the process of picking your pieces and bringing them together. Recall how you yourself did it or saw someone close doing it. You won't feel like making a fuss about a celebrity break up anymore. Whether for a celebrity or for a layman, break-ups are equally disastrous for everyone and not be made hue and cry about.
Just let them be, can you?