Pulwama Attack: Is Bollywood finally walking the talk on Pakistan and terrorism?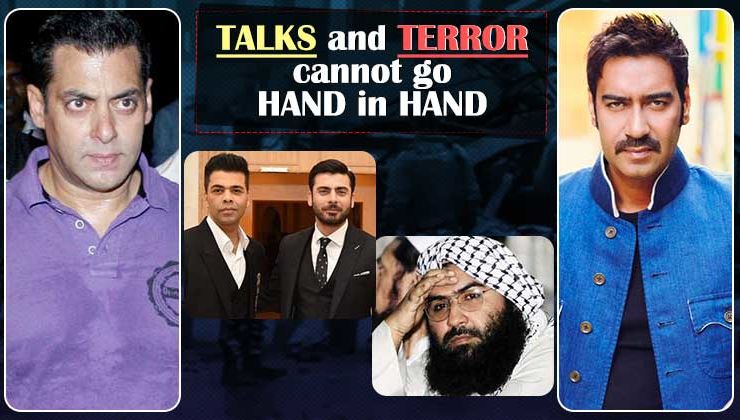 The Indian Republic is currently seething over the dastardly terror attack carried out by Pakistan, which saw the death of 44 Central Reserve Police Force (CRPF) personnel. The heinous terror strikes took place in Jammu and Kashmir's Pulwama sector. Pakistan is a habitual offender and a hub of terrorism and a breeding ground for terrorists. Bollywood, which is always beating around the bush, has this time taken the bull by the horns and condemned the terror attack in no uncertain terms.
The likes of Javed Akhtar, Shabana Azmi, Salman Khan, Ajay Devgn and others have unequivocally taken a stand against Pakistan for a change. But, is this window dressing or will this be the consistent policy from now on? Because the Hindi film industry, after the dust settles, resumes cultural events with Pakistan and forgets about terror and extremist attacks.
Ajay Devgn's 'Total Dhamaal' won't be releasing in Pakistan in the aftermath of Pulwama attack.
Ajay Devgn's statement saying that his next film 'Total Dhamaal' won't release in Pakistan is the epitome of doublespeak and hypocrisy that the Hindi cinema represents. Ajay Devgn is a right-wing supporter and has campaigned and addressed rallies for the Bharatiya Janata Party (BJP). In many of his films, he has the songs of Pakistani singer Rahat Fateh Ali Khan.
Salman Khan will say cultural ties should not be impacted and Bollywood is a soft target for politicians and political parties. In many of bhaijaan's films, you will find the vocals of Atif Aslam and Rahat Fateh Ali Khan. It was a welcome change to see Salman replace Atif for his next production venture 'Notebook'. We applaud!
Time has come for our political, cinema and sports classes to unite and speak in one voice. Those, who say terror and culture should not be mixed have no idea what they are talking about.
Pakistani singer Atif Aslam has to once and for all make his position clear regarding terror attacks on India carried out by Pakistan.
We cannot have the Fawad Khans, Atif Aslams and Rahat Fateh Ali Khans of the world coming to India and earning money at the same time that Pakistani terrorists are killing our soldiers and ransacking our sovereignty. You can't have the scenario of Pakistani artistes entertaining Indians on one hand and the likes of Masood Azhar, Hafiz Saeed and ISI butchering and murdering innocent Indians.
The whole concept of 'jappiyan and pappiyan' (hugs and kisses) and Biryani diplomacy has no meaning until Pakistan uproots terrorism and jihadi elements from its soil. Bollywood has to take a stand and this time, the cinestars have finally gathered courage and walked the talk on Pakistan and terrorism.
Post Script: After the Uri attacks in 2016, we had a brilliantly choreographed video of filmmaker Karan Johar begging and pleading for his film 'Ae Dil Hai Mushkil' to release amid protest by Maharashtra Navnirman Sena (MNS). 'ADHM' had Pakistani actor Fawad Khan in it and KJo played to the gallery. Bollywood is no longer a soft power and it is high time they also care about national interests and security.
Also Read: Is it right to judge Bollywood celebs based on their political views?