Sooryavanshi rages at the BO: How it took an Akshay Kumar and a Rohit Shetty to get audience back to the theatres!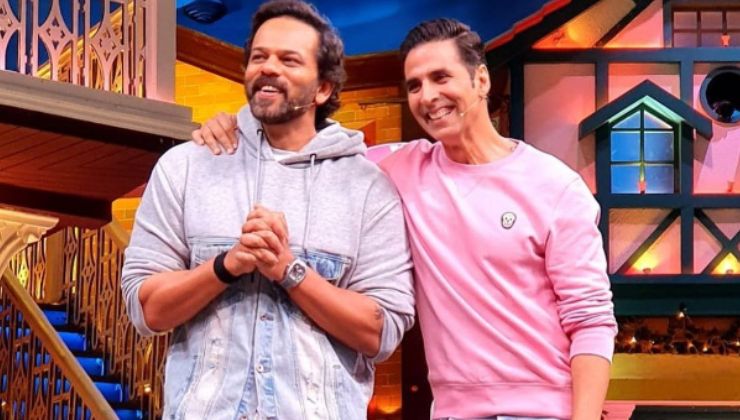 Image Source - Instagram
The big Friday acid test is over. Rohit Shetty's Sooryvanshi starring Akshay Kumar in the titular lead, released globally yesterday and has been raging at the box office ever since. For months, the industry has faced a massive debate: will theatres ever regain normalcy? Will people return to the multiplexes with their favourite popcorn tubs to enjoy two hours of movies, when the same Entertainment is served to their homes? The answer is here, and it's LOUD and CLEAR! With the supreme dominance of Sooryvanshi in all circuits in and around India, the makers have ended the debate. Feed audience some masala popcorn entertainment with their favourite stars and they will lap it up.
Ditching the press screening, I decided to catch a late night show of the actioner nearby. My 9-year old niece had already watched it in Kolkata in the morning. Her text to me in the family group read: I really loved Sooryavanshi; I want to meet Akshay Kumar! Coming from her, I somehow knew the film has done its job. I went in with my friends, who clapped, hooted, and whistled at every seeti-maar dialogue, at every dhamakedaar entry, and of course, during the entire action setpiece. I come out of the screen and I meet my friend's mother who tells me – "I thought I'd sleep during the film because I don't like action much. But this was thoroughly entertaining and so much fun. You can only enjoy this experience in a theatre. This is not made for an OTT platform." The conclusion is there for everyone to see. Sooryavanshi happens to be a film that catered to all age groups – from a 9-year old to a senior citizen, everyone watched it and loved it equally. That's the beauty of Rohit Shetty. The maker blends all the ingredients of a desi masala film into a perfect mixture, in just the right amounts. There's patriotism, there's nationalism, there's a message but he stops taking the preachy route. Instead, he makes it fun and hoot-worthy – Sample Ranveer Singh's Simba explaining why Pakistan needs to stop terrorism.
View this post on Instagram
And now coming to the main star of the show – Akshay Kumar! This man truly deserves a huge round of applause for always moulding himself to the needs. I recall meeting him during Bell Bottom and asking him why he chose to risk a release at a time theatres in Maharashtra was shut and his answer was: More than me, it's the producer's bravery, he needs to be applauded for it. But boy, what a fantastic performance in Bell Bottom which I regret missing at a theatre. But at that very point, I knew that he will still be the man who brings the same audience to the theatres. Without naming, I see several actors posting about how theatres should be supported but still stick to doing Zoom calls for Covid safety. But Akshay Kumar stands out to be different. It doesn't mean that Covid and the fear of the pandemic doesn't loom over us anymore but he at least promotes getting back to normalcy and the fact that many livelihoods (theatre owners, exhibitors, workers) are at stake. When you speak of Sooryavanshi, the attitude, the scale that he brings to this canvas is unimaginable. Plus, he happily allows Ranveer and Ajay Devgn also take center stage with him during the film's brilliant climax. At a time when actors shy away from doing multi-starrers with equal positioning, here's a man who doesn't have a speck of insecurity in him and that massively works in the film's favour. You needed a face and stardom like Akshay Kumar for a film this big but more than that, you needed a braveheart like him who stood rock solid with the team through all the delays, all the backlogs before finally letting it out for the audience to enjoy. I only hope and pray that this film eventually goes on to set cash registers jingling. Early estimates suggest it's got a Rs 26 crore opening despite having Maharashtra (their biggest circuit) and Madhya Pradesh on 50%, mind you! It's only going to fly from here and I am expecting firecrackers this Diwali. Thank You Rohit sir, Akshay sir and the entire team of Sooryavanshi from all of us movie lovers – you really brought back magic to the theatres again!
Also Read: Sooryavanshi Box Office: Akshay Kumar starrer all set to be his biggest opener, will clock in around Rs 30 crore on Day 1