Meet the exes of B-Town celebs before they were famous
Our fascination over Bollywood stars and their relationships never ends. While some of them keep giving us relationship goals, some fail to manage professional and personal front together and give up on relationships. Some are too carried away with all the fame they achieve while some remain grounded.
These stars have been part of superhit Bollywood movies while some have seen global fame. These actors have had their share of struggle and here are the names of their exes who were around during the pre-fame period.
From Deepika Padukone to Arjun Kapoor, here are their exes before they were famous.
Here are a few Bollywood celebrities and their former lovers, before fame spoilt it all!
Aishwarya Rai and Rajeev Mulchandani
Aishwarya Rai Bachchan was allegedly in a relationship with Rajeev Mulchandani before her shot to wider fame happened. We aren't sure if her professional success gave Rajeev major complex or Aishwarya was too carried with all the attention she was receiving. But, the duo parted ways. Now, Aishwarya is married to Abhishek Bachchan and has a daughter named Aaradhya.
Image Source - Instagram
Jacqueline Fernandez before becoming famous once dated Bahrain royal family member Hassan Bin Rashid Al Khalifa. The relationship could not sustain itself and Jackie broke up with Haasan.
Alia Bhatt was dating her childhood friend Ali Dadarkar before she featured in Karan Johar's 'Student Of The Year' . Soon after her debut film hit the screens, we heard she was going around with co-star Sidharth Malhotra. The breakup with Ali was not a public affair. And now, Alia has also broken up with Sidharth and is dating Ranbir Kapoor.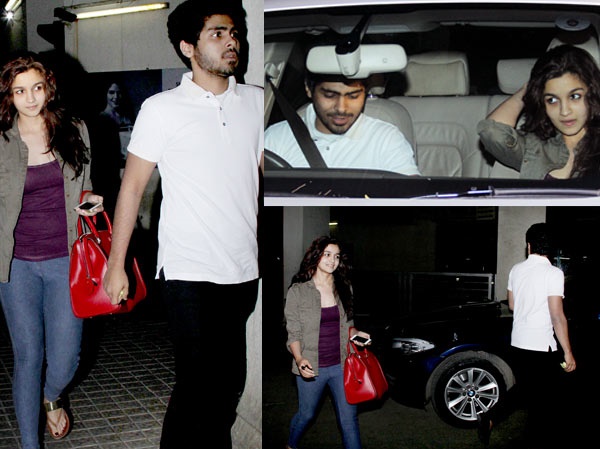 Anushka Sharma once dated a Bangalore boy, Zoheb Yusuf. But soon, Bollywood happened to Anushka; that too through a power-packed debut with Shah Rukh Khan. Rest is a predictable story.
Arjun Kapoor and Arpita Khan
Arjun Kapoor was in a relationship with Salman Khan's sister Arpita Khan and admits it to be the most serious affair he has had so far. However, things did not work out between the two. Arjun went on to turn a handsome hunk, shedding all those extra pounds off. Then 'Ishaqzaade' happened and now he is the 'most wanted munda' of Bollywood!
Deepika Padukone and Nihar Pandya
When Deepika Padukone switched to acting, she left behind small modelling assignments and also her model boyfriend Nihar Pandya. Soon, she was in a relationship with Ranbir Kapoor. However, Cupid left her there too and now she is happily going around with Ranveer Singh.
Ranbir Kapoor and Avantika Malik
Ranbir Kapoor and Avantika Malik were in a relationship for 5 years but they broke up. Now Ranbir is rumoured to be with Alia Bhatt.
Ranveer Singh and Aditya Roy Kapur with Ahana Deol.
Ahana Deol and Ranveer Singh's affair was almost a calf love. She then dated Aditya Roy Kapur for four years. We
are a little confused as to who broke through fame first, but never mind.
Neil Nitin Mukesh and Priyanka Bhatia
Neil Nitin Mukesh dated Priyanka Bhatia, but when he became famous in the film industry he reportedly dumped her.
The 'Dabangg' actress, Sonakshi Sinha dated Managing Director of Fame Cinemas, Aditya Shroff before earning fame in Hindi cinema. She dated him for almost 2 years before calling it quits over a personal matter.
Deepika Padukone and Upen Patel
Not many people know about the love story of Deepika Padukone and Upen Patel. The two dated each other in their modelling days but broke up once the actress shifted her base to Mumbai. Reportedly, they dated and broke up twice.
Well, we hope you got to know your favourite stars a tad bit more.
For more such interesting updates, stay tuned to this space.
Also Read: Varun Dhawan to Kartik Aaryan to Ranbir Kapoor-actors who turned heads by lifting their actresses in public