Firangi movie review: Neither too funny nor too patriotic, this one's a drag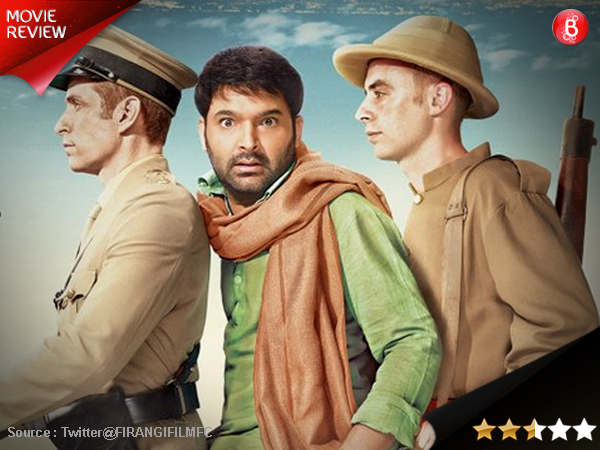 Directed By: Rajiev Dhingra
Produced By: Kapil Sharma
Cast: Kapil Sharma, Ishita Dutt, Monica Gill
Duration: 2 hours 40 minutes
Bollywood Bubble Rating: 2.5/5
Kapil Sharma, a name popular for his comic timing on the small screen, is one film old in the industry. He is back as an actor-producer with the comedy-drama 'Firangi'. Starkly contrasting to his debut vehicle 'Kis Kisko Pyaar Karoon', 'Firangi' is set in the pre-Independence era of 1920s. While we have seen various movies on the pre-Independence era, this one can't be added to the list of those because it has tinges of comedy in place as the trailer suggests. And with Kapil Sharma leading the starcast, you surely do expect some of his trademark wittiness to initiate a few giggles here and there. Does the movie manage to live up to the expectations? Umm, let's discover in the movie review.
The movie tells the tale of India before 21 years of attaining Independence when Gandhiji's path of non-violence had taken the country by storm. In a small village of Punjab, Manga (Kapil Sharma) a good-for-nothing young man, who is jobless and cursed strongly by villagers for sitting idle and being of no use to his family. However, he has the power to Kick people out of their pains and this power turns out to become his lucky charm as a British officer Mark Daniels (played by Edward Sonnenblick) summons him and offers him a job at the cantonment. Manga instantly takes up the lucrative opportunity and believes it to be the right time to impress the village belle Sargi (played by Ishita Dutta) to marry him and tries convincing her family. However, his plan gets foiled as Sargi's grandfather Lala ji (Aanjjan Srivastav) disapproves of the match because according to him, Manga is a servant of the Britishers and Lala ji wants to rid the Indians from the British rule ala by following into the footsteps of Gandhiji.
Meanwhile, Mark Daniels along with the local King Raja Inderjeet Singh hatches a plan to build a liquor factory as Daniels wants to marry the King's London-return pretty daughter Shyamali (Monica Gill) while the two intend to collaborate for a partnership. The two have their eyes set on the land where their village is built. This results in too many problems as the evil King and Daniels decide on a partnership and conveniently fool the villagers including Manga. The rest as they say is quite predictable. If we closely understand the concept of the movie which isn't rocket-science, it seems slightly inspired from Ashutosh Gowariker's critically acclaimed movie 'Lagaan'. A villager in love with a village belle stands up against the Britishers to rid of the agonies of the villagers. Then, a desi mem in the form of Shyamali here who is not interested in marrying the British officer, here Mark Daniels (inspired from Russell).
While Edward Sonnenblick seems pretty convincing as the conniving Britisher, Monica Gill is average. Kumud Mishra as the local King looks pretty much menacing as the evil ruler. Kapil Sharma as Manga isn't impactful enough to evoke sympathy or even make you laugh. He is fairly okay, and his lead actress Ishita Dutta is also strictly average. The supporting cast comprising of actors like Rajesh Sharma, Aanjjan Srivastav, Inaamulhaq are decent in their roles reminding us of the villagers from 'Lagaan' who form a cricket team. The dialogues are weak and make no sense in many scenes. A dialogue where Shyamali says, "Maut uske saamne thi, par woh mara nahi", made us cringe heavily and then another one where the villagers say, "Angrezo ke baare mein suna tha, aaj sunn bhi liya." Haha! You got the gist, right? The music by Jatinder Singh is fairly average.
The long run-time of 161 minutes acts as a deterrent to this unconvincing, predictable and unfunny plot which gets boring and dragged towards the end. Only diehard fans of Kapil Sharma can give this a watch to see him experiment with a different genre. Our verdict: Can give it a miss.
Watch Trailer