Firangi movie review: Neither too funny nor too patriotic, this one's a drag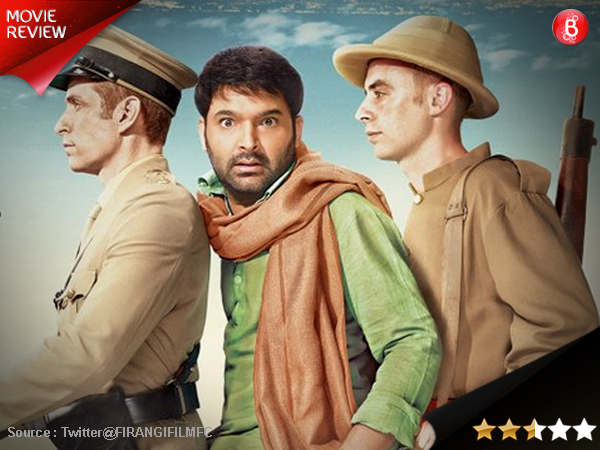 Directed By:Rajiev Dhingra
Produced By: Kapil Sharma
Cast: Kapil Sharma, Ishita Dutt, Monica Gill
Duration: 2 hours 40 minutes
Bollywood Bubble Rating:2.5/5
Kapil Sharma, a name popular for his comic timing on the small screen, is one film old in the industry. He is back as an actor-producer with the comedy-drama 'Firangi'. Starkly contrasting to his debut vehicle 'Kis Kisko Pyaar Karoon', 'Firangi' is set in the pre-Independence era of 1920s. While we have seen various movies on the pre-Independence era, this one can't be added to the list of those because it has tinges of comedy in place as the trailer suggests. And with Kapil Sharma leading the starcast, you surely do expect some of his trademark wittiness to initiate a few giggles here and there. Does the movie manage to live up to the expectations? Umm, let's discover in the movie review.
The movie tells the tale of India before 21 years of attaining Independence when Gandhiji's path of non-violence had taken the country by storm. In a small village of Punjab, Manga (Kapil Sharma) a good-for-nothing young man, who is jobless and cursed strongly by villagers for sitting idle and being of no use to his family. However, he has the power to Kick people out of their pains and this power turns out to become his lucky charm as a British officer Mark Daniels (played by Edward Sonnenblick) summons him and offers him a job at the cantonment. Manga instantly takes up the lucrative opportunity and believes it to be the right time to impress the village belle Sargi (played by Ishita Dutta) to marry him and tries convincing her family. However, his plan gets foiled as Sargi's grandfather Lala ji (Aanjjan Srivastav) disapproves of the match because according to him, Manga is a servant of the Britishers and Lala ji wants to rid the Indians from the British rule ala by following into the footsteps of Gandhiji.
Meanwhile, Mark Daniels along with the local King Raja Inderjeet Singh hatches a plan to build a liquor factory as Daniels wants to marry the King's London-return pretty daughter Shyamali (Monica Gill) while the two intend to collaborate for a partnership. The two have their eyes set on the land where their village is built. This results in too many problems as the evil King and Daniels decide on a partnership and conveniently fool the villagers including Manga. The rest as they say is quite predictable. If we closely understand the concept of the movie which isn't rocket-science, it seems slightly inspired from Ashutosh Gowariker's critically acclaimed movie 'Lagaan'. A villager in love with a village belle stands up against the Britishers to rid of the agonies of the villagers. Then, a desi mem in the form of Shyamali here who is not interested in marrying the British officer, here Mark Daniels (inspired from Russell).
While Edward Sonnenblick seems pretty convincing as the conniving Britisher, Monica Gill is average. Kumud Mishra as the local King looks pretty much menacing as the evil ruler. Kapil Sharma as Manga isn't impactful enough to evoke sympathy or even make you laugh. He is fairly okay, and his lead actress Ishita Dutta is also strictly average. The supporting cast comprising of actors like Rajesh Sharma, Aanjjan Srivastav, Inaamulhaq are decent in their roles reminding us of the villagers from 'Lagaan' who form a cricket team. The dialogues are weak and make no sense in many scenes. A dialogue where Shyamali says, "Maut uske saamne thi, par woh mara nahi", made us cringe heavily and then another one where the villagers say, "Angrezo ke baare mein suna tha, aaj sunn bhi liya." Haha! You got the gist, right? The music by Jatinder Singh is fairly average.
The long run-time of 161 minutes acts as a deterrent to this unconvincing, predictable and unfunny plot which gets boring and dragged towards the end. Only diehard fans of Kapil Sharma can give this a watch to see him experiment with a different genre. Our verdict: Can give it a miss.
Watch Trailer
'High Jack' Movie Review: This TRIPPY flight journey is bound to tickle your funnybones!
Directed By: Akarsh Khurana
Produced By: Nickhil Jakatdar, Arun Prakash, Vikramaditya Motwane, Vikas Bahl, Madhu Mantena
Cast: Sumeet Vyas, Mantra, Sonnalli Seygall
Duration: 1 hrs 42 mins
Bollywood Bubble Rating: 3
As I sit to watch Akarsh Khurana and Sumee Vyas' second venture, In my head I was already ready for a laughter ride. The duo had earlier entertained the masses with The Viral Fever's web series 'Tripling' . The ones who had their eyes hooked on-to the director – actor's previous work can expect more from this comedy-drama. If you are the one who enjoys pun-intended and non-veg jokes, then it is a go-to movie.
The light heart serious-comedy starts off with our lit DJ Rakesh (Sumeet Vyas). The actor's comic timing and screen space was one thing that left me and everyone amazed in the theater. After this movie, I admit being a fan of the actor (not die hard). After the LIT start, the movie inches towards the introduction of Udaan Airlines and the terrible state of its employees, who wish to get their unpaid dues. A revengeful yet kind-hearted staff of the airlines plan to HIGH-JACK their own flight.
The movie's plot revolves around DJ Rakesh (Sumeet Vyas), his creepy co-passengers and the High Jackers. Apart from Sumeet, characters of Kumud Mishra and Taaruk Raina were the highlight of this stoner-comedy. Director Akarsh Khurana has done justice to every character of his film.
Speaking about the music, you will feel as if you were actually in a RAVE party. Akarsh has presented a serious issue in a funny and witty way! Well, there were few offs in the movie viz no background score in some scenes and the lack of songs. Overall, the movie is a perfect pick for a lazy weekend.
This flight from Goa to Delhi is bound to tickle your funnybones. To know, if DJ Rakesh' dream to be popular is fulfilled and whether the employees of Udaan airlines succeed in HIGH Jacking, you need to get out of your couch and head to the nearest cinema.
If asked to sum up the movie in one sentence, it will definitely be- Get ready to board a TRIPPY flight from Goa to Delhi!
Watch the trailer here:
'Raazi' Review: Alia Bhatt and Vicky Kaushal's film is a must watch
Directed By: Umesh Shukla
Produced By: Vineet Jain, Karan Johar, Hiroo Yash Johar, Apoorva Mehta
Cast: Alia Bhatt, Vicky Kaushal
Duration:2.3 hours
Bollywood Bubble Rating: 4/5
Set in the early 1970s just before the India-Pakistan war and inspired from real events, 'Raazi' is the tale of a Kashmiri girl, Sehmat Khan (Alia Bhatt) whose life changes after she gets to know her dying father's last wish. As a dutiful daughter, she can do little but surrender to his passion and patriotism and follow the path he has so planned for her.
So from an ordinary, college-going girl, she is trained by an Indian intelligence agent Khalid Mir (Jaideep Ahlawat) to become a deadly spy. She is then married off to Iqbal Syed (Vicky Kaushal), the son of the well-connected Pakistani Brigadier Parvez Syed (Shishir Sharma) and her mission is to regularly pass information to the Indian intelligence.
How Sehmat survives her stint in Pakistan, forms the crux of the tale.
With the perfect infusion of sentiments in a gripping plot, the story touches one's heart especially because of Alia Bhatt's power-packed performance. In an author-backed role, she is natural and undoubtedly captures your heart with her restrained and mature act.
Vicky Kaushal as Iqbal Syed has little to do on screen. But, within the given screen-time he shines brilliantly, especially at the end when he realizes that his marriage was just a farce and he earnestly asks Sehmat, if the moments which they spent together were for real?
Among the supporting cast; Rajit Kapur as Sehmat's father Hidayat Khan, Shishir Sharma as Iqbal's father Brigadier Parvez Syed, Soni Razdaan as Sehmat's mother are all effective and effortless.
The only odd one out was Arif Zakaria, portraying Abdul, the family help of the Syeds. With his standoffish get-up and mysterious demeanor, he stood out like a sore thumb and seemed cliched.
Also, Sanjay Suri's guest appearance is a clever ploy by the director to stamp a loaded statement.
With excellent production values, Jay I. Patel's cinematography captures the performances and the era to perfection. Shankar- Ehsaan-Loy's music elevates the viewing experiences.
Overall, Raazi offers a subtle dose of patriotism that makes you root for the film as it brings to life the story of the unsung Heroine of the India-Pakistan war.