'Shubh Mangal Zyada Saavdhan' Movie review: The Ayushmann Khurrana-Jitendra Kumar starrer will crack you up yet manage to show the struggle of homosexuals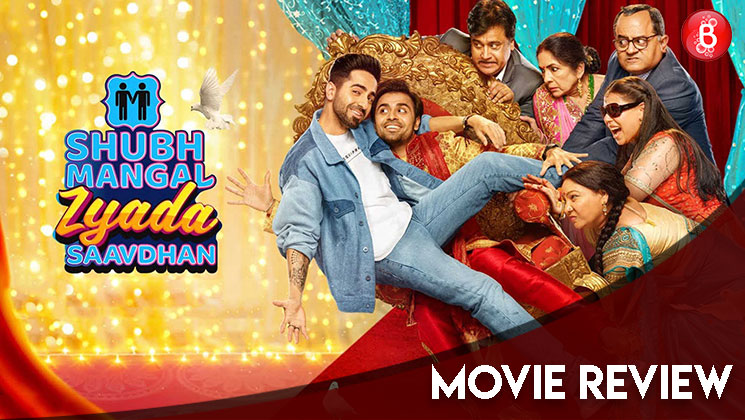 Image Source - Instagram
Directed By
Hitesh Kewalya
Produced By
Aanand L. Rai, Bhushan Kumar, Himanshu Sharma, Krishan Kumar
Cast
Ayushmann Khurrana, Jitendra Kumar, Gajraj Rao, Neena Gupta, Manu Rishi, Sunita Rajwar, Maanvi Gagroo, Pankhuri Awasthy
Bollywood Bubble Rating

What's It About
The movie revolves around the life of a gay couple Kartik Singh (Ayushmann Khurrana) and Aman Tripathi (Jitendra Kumar) who like most gay couples in the world are fighting for their place and acceptance in their family. But, before they can come out they are caught, and their whirlwind romance becomes just whirlwind with no romance at all. How Kartik and Aman will make their parents accept them as a couple forms the rest of the plot. Will they be able to succeed? You'll have to watch the movie to find out.
What's Hot
'Shubh Mangal Zyada Saavdhan' is a social problem comedy film. It has absolutely nailed the comedy part. There is not a second when you will be distracted as it will hold you strong from the very first scene.  The plot is very interesting and it cracks you up every minute. The screenplay was crisp and it did not feel like a drag at all. Hitesh's strong direction showed through in all the scenes and along with good cinematography, the movie was a good entertainer.
Jitendra Kumar was a surprise package as he played his character of a typical Allahabad boy very well. For someone doing just his 2nd big film, he seemed very promising and he held his ground strong opposite a big actor like Ayushmann. Ayushmann was equally good as he portrayed the character of a strong-headed homosexual who wanted to feel the freedom just like any straight person with his partner. Gajraj Rao and Neena Gupta were an absolute delight to watch. Their adorable banter will have you doubling over in laughter. The rest of the cast, Manu Rishi, Sunita Rajwar, Maanvi Gagroo, and others were equally an important part of the movie and it was refreshing to watch that they were not wasted like passing clouds.
The screenplay was a definite thumbs up. The story will keep you hooked and make you stuck to the corners of your seat as you will be laughing all through.
The music of the movie will have you grooving in your seats. Ooh La La and Pyaar Tenu Karda Gabru were a standout in the whole soundtrack.
What's Not
The movie does not have any downers but Ayushmann's character could have been more realistic.
The scenes that would have put across the message of equality for homosexuals, were turned into a complete comedy and you could not empathize with the characters at that point.
Verdict
'Shubh Mangal Saavdhan' is a good one-time watch. You would not regret spending your money on this one as it is completely worth it. I am going with 3 stars.
Box-Office
'Shubh Mangal Saavdhan' will do fairly well at the box-office. The other big movie in theatres this week, 'Bhoot' has received mixed reviews from the critics, however, the ones who don't prefer to get spooked out of their seats will surely prefer to go for this light-hearted comedy with a strong message.
Watch Trailer
Also Read: Ayushmann Khurrana's hilarious take on kissing Jitendra Kumar in 'Shubh Mangal Zyada Saavdhan'