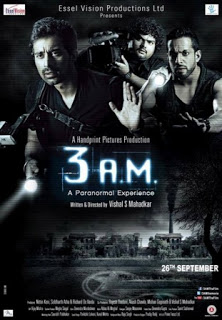 Movie Director: Vishal Mahadkar
Cast and Crew: Rannvijay Singh, Anindita Nayar, Salil Acharya, Kavin Dave
Releasing Date: 26 September, 2014
Music Composers: Mannan, Raeth band, Bruno, Pranay Rijia
Lyricist: Mannan, Pranay Rijia
Production House: Handprint Pictures, Essel Vision Productions Ltd
Fun Fact: 3 A.M. was shot in a real haunted location, a mill in South Mumbai.
A few students decide to visit a haunted place called Rudra Mills, where they are stopped by Sunny (Rannvijay Singh). Sunny (Rannvijay Singh) tells them that he lost his wife Sarah (Anindita Nayar) who used to do programs on haunted places. Once she was unable to find her Bhagwad Gita and was found hanging on the walls of Rudra Mills. Sunny decides to do a show on paranormal activity at Rudra Mills, where at 3 A.M. Cyrus (Salil Acharya) is possessed by the spirit of Rudra Pratap Singh and kills Sunny and Raj (Kavin Dave). It is Sunny's spirit who is narrating his story to the students.
https://s3.ap-southeast-1.amazonaws.com/cdn.deccanchronicle.com/sites/default/files/3am-.jpg
Sorry, we couldn't find any posts. Please try a different search.