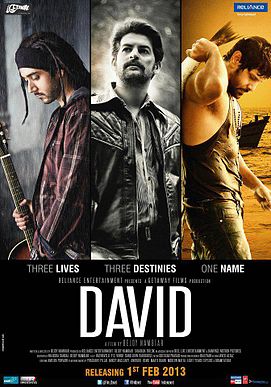 Movie Director: Bejoy Nambiar
Cast and Crew: Neil Nitin Mukesh, Vikram, Vinay Virmani, Tabu, Isha Sherwani
Releasing Date: February 1, 2013
Music Composers: Mikey McCleary, Remo Fernandes, Anirudh Ravichander, Prashant Pillai
Lyricist: Ankur Tewari, Maatibaani, Joyshanti, Remo Fernandes, Abhijeet Deshpande, Gopal Dutt, Turaz, Mikey McCleary, Preeti Pillai
Production House: Getaway Films
Fun Fact: Vikram's scenes in Goa were actually shot in Mangalore and Kerala.
Why it Made News: News circulated that the same movie was being simultaneously made in Tamil by the same director. The Tamil version has two Davids instead of three.
It's a story of three Davids. First David is in London in 1975. He is a protégé to Iqbal Ghani, a dreaded Mafia don who controls London's Muslim community. He is in love with Ghani's ward and they both have plans to marry but unexpected events take place that separates them. The second David is a Mumbai-based aspiring musician from 1999, who wants to seek revenge against a Hindu fanatic politician who humiliated his father, a Protestant priest, on accusations that he was trying to convert people into Christians. The third David is a Goan fisherman from 2010 who loves a deaf and mute girl madly but she is already engaged with his best friend, whom he believes is marrying her just for dowry. The lives of these three Davids are somehow interconnected.