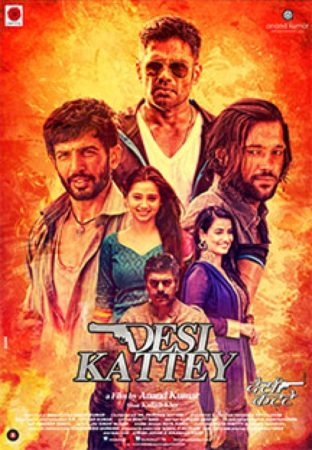 Movie Director: Anand Kumar
Cast and Crew: Sunil Shetty, Jay Bhanushali, Akhil Kapur, Sasha Agha
Releasing Date: 26 September 2014
Music Composers: Kailash Kher
Lyricist: Kailash Kher
Production House: Anand Kumar
Fun Fact: This was Salma Agha's second film after her debut Aurangzeb.
Why it Made News: The first time that Jay Bhanushali and Suniel Shetty worked together. Bhanushali is said to have a resemblance to Suniel Shetty.
Two kids (Jay and Akhil) who are born and brought up in Kanpur work in a pistol factory in Kanpur. Little do they know that they will soon become sharpshooters in the world of crime. Together, they assassinate the main man of a powerful politician, Judge Sahab (Ashutosh Rana). Judge is so impressed by their work that he takes them under their wing. But not everything is hunky dory. The two are framed for a murder and soon are at the crossroads of life.
https://i2.wp.com/moviemart.me//wp-content/uploads/2017/07/Desi-Kattey-2014-Hindi-720p-HDRip.jpg?resize=556%2C803
Sorry, we couldn't find any posts. Please try a different search.