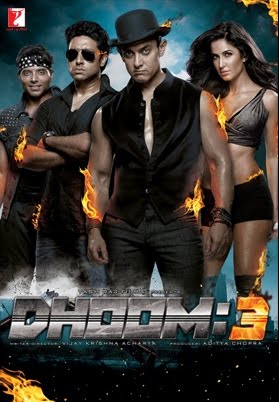 Movie Director: Vijay Krishna Acharya
Cast and Crew: Aamir Khan, Katrina Kaif, Abhishek Bachchan, Uday Chopra
Releasing Date: December 20, 2013
Music Composers: Pritam, Julius Packiam
Lyricist: Sameer Anjaan, Amitabh Bhattacharya, Kausar Munir
Production House: Yash Raj Films
Fun Fact: This is Aamir Khan's first movie in which he has a double role.
Why it Made News: Like its predecessors, Dhoom 3 broke records. This one particularly because of Aamir Khan playing a villain in this movie.
Sahir works in a circus and can also perform magic. He is seeking revenge against the man who was responsible for his father's death by robbing his banks in Chicago. The city is in havoc and so Jai and Ali come together again to hunt this thief down. This time, this hunt is a twisty one, with deception taken to another level.  Also, this thief isn't Alone, he has a girl, who assists him in the circus.