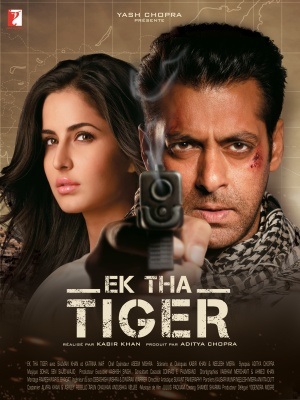 Movie Director: Kabir Khan
Cast and Crew: Salman Khan, Ranvir Shorey, Karina Kaif, Girish Karnad
Releasing Date: August 15, 2012
Music Composers: Sohail Sen, Sajid- Wajid
Lyricist: Kausar Munir, Anvita Dutt, Neeleesh Misra,
Production House: Yah Raj Films
Fun Fact: The story takes the audience from Istanbul to Dublin, Havana and Iraq and the endearments used (Zee and Doordarshan) are amusing.
Why it Made News: Salman Khan's presence on screen, good direction and screenplay
A Trinity College scientist, Professor Anwar Jamaal Kidwai (Roshan Seth) is suspected of selling secrets of missile technology to Pakistan. The Indian Government sends a secret agent named Tiger (Salman Khan) to Dublin to extract information about the professor's activities. He tries to know what the scientist is upto by befriending his caretaker, Zoya (Katrina Kaif) and ends up falling in love with her. What follows is a wild expedition that Tiger and Zoya embark upon, fighting the realm of intelligence and espionage that prohibits its agents to fall in love.