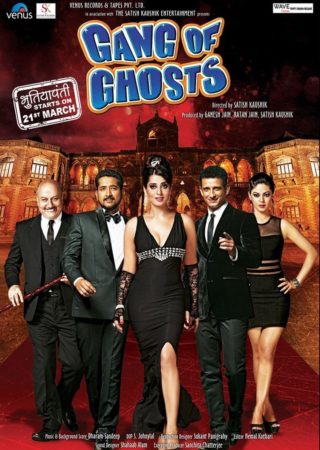 Movie Director: Satish Kaushik
Cast and Crew: Sharman Joshi, Parambrata Chaterjee, Mahi Gill, Anupam Kher, Meera Chopra
Releasing Date: 21 March 2014
Music Composers: Dharam Sandeep
Lyricist: Satish Kaushik, Vikas Kumar, Qateel Shifai, Rashmi Singh
Production House: Venus Records & Tapes Pvt Ltd
Fun Fact: The film is a remake of the Bengali horror film, Bhooter Bhabhisyat.
Why it Made News: One of the first horror comedies in Bollywood.
A group of ghosts who haunt an old bungalow now face a loss of residence because of a new building coming up. The eclectic group of ghosts decide that they will not allow the building to be built, come what may.
https://hamaraphotos.com/bollywood/wp-content/uploads/2014/03/Gang-of-Ghosts-Poster.jpg