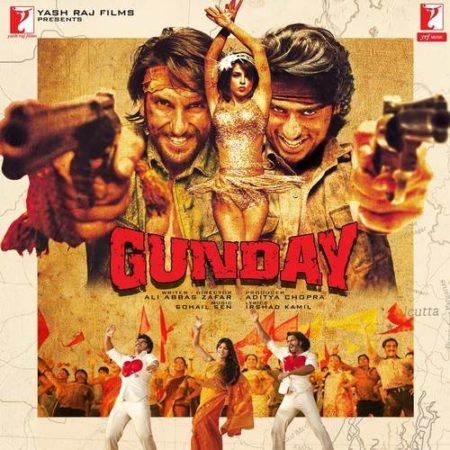 Movie Director: Ali Abbas Zafar
Cast and Crew: Ranveer Singh, Priyanka Chopra, Arjun Kapoor, Irrfan Khan
Releasing Date: February 14, 2014
Music Composers: Sohail Sen, Julius Packiam
Lyricist: Irshad Kamil
Production House: Yash Raj Films
Fun Fact: The Director, Ali Abbas Zafar conceived the film as an amalgam of stories he had heard from his father as a child about the effects of war-caused immigration and the Mafia Raj's illegal marketing of coal.
Why it Made News: The film had a very good opening at the box office. It also registered excellent collections at multiplexes, which is rare for an action film in India.
An action thriller, set in 1971–1988 Calcutta, Gunday  is a story about two best friends and orphans, Bikram and Bala who are also the most powerful outlaws of their time. They fall in love with a beautiful cabaret dancer, Nandita, which causes rivalry and misunderstandings between them. The dancer turns out to be an undercover agent, who was supposed to help Officer Satyajeet Sarkar, arrest Bikram and Bala. In the end, the two best friends unite and run for their lives but do not surrender to the police. They are shot dead by Sarkar and Nandita.