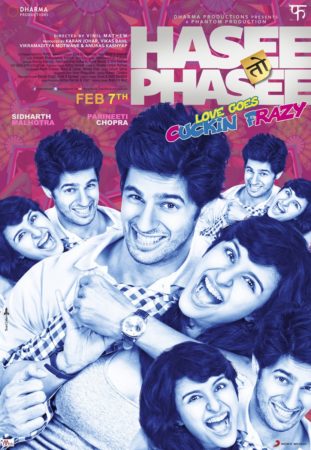 Movie Director: Vinil Matthew
Cast and Crew: Parineeti Chopra, Sidharth Malhotra, Adah Sharma
Releasing Date: 7 February 2014
Music Composers: Vishal Dadlani.
Lyricist: Amitabh Bhattacharya, Kumaar
Production House: Karan Johar, Anurag Kashyap
Fun Fact: The third film that Anurag Kashyap and Karan Johar worked together on. Anurag Kashyap wrote the dialogues.
Why it Made News: The film made waves because this real life couple Kareena Kapoor and Saif Ali Khan played the lead roles.
Nikhil (Sidharth) is a young man who's about to get married to Karishma (Adah Sharma) . However, Karishma asks Nikhil to arrange a large amount of money before they can get married 7 days later. Meanwhile, Karishma's younger sister, Meeta (Parineeti), who had mysteriously disappeared 7 years ago returns. Karishma worries that Meeta's sudden reappearance will cause problems during her wedding and tells Nikhil to keep her away from her father. However, it is revealed later on that Meeta has returned to her parents with a set plan in mind.