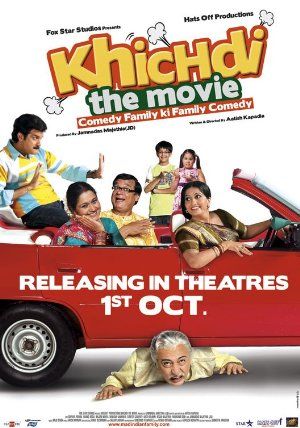 Movie Director: Aatish Kapadia
Cast and Crew: Supriya Pathak, Anang Desai, Rajeev Mehta, Jamnadas Majethia, Nimisha Vakharia
Releasing Date: 1 October 2010
Music Composers: Raju Singh
Production House: Jamnadas Majethia, Hats Off Productions
Fun Fact: This was the first time that a TV series became an inspiration for a film.
Why it Made News: Vandana Pathak, who played Jayashree in the original series was not part of the film
Himanshu (JD) and Hansa (Supriya Pathak) lose their father, Chandrakanth Sheth (Arvind Vaidya). But before that happens, Chandrakanth tells his family that he always wanted his son, Himanshu to get married. Himanshu now decides to have a lavish wedding. All of a sudden, Himanshu's neighbor, Parminder (Kirti Kulhari) falls in love with him and they decide to marry. However, it only before the wedding ceremony that Himanshu has some second thoughts.
https://i.pinimg.com/736x/23/6c/63/236c63da8c91af9516a3066c959f3ea7–watches-online-the-movie.jpg
Sorry, we couldn't find any posts. Please try a different search.