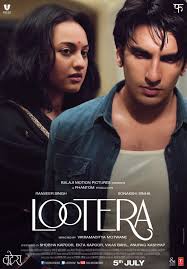 Movie Director: Vikramaditya Motwane
Cast and Crew: Ranveer Singh, Sonakshi Sinha,
Releasing Date: 5 July 2013
Music Composers: Amit Trivedi
Lyricist: Amitabh Bhattacharya
Production House: Anurag Kashyap, Ekta Kapoor, Shobha Kapoor, Vikas Bahl
Fun Fact: Lootera is loosely based on O Henry's classic 'The Last Leaf'.
Why it Made News: The first film to have Ranveer and Deepika together.
Varun Shrivastav (Ranveer Singh) is a con man. He pulls a con on a father-daughter duo who trusted him. He loots all the treasure of the father and runs away a day before getting married to the daughter, leaving the daughter, Pakhi (Sonakshi Sinha) heartbroken. However, fate brings Varun back to the daughter once again.