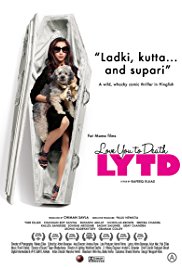 Movie Director: Rafeeq Ellias
Cast and Crew: Yuki Ellias, Chandan Roy Sanyal, Sheeba Chaddha, Suhansini Mulay, Kallol Banerjee, Sohrab Ardeshir, Chetan Shashital, Carl Sequeira, Leonid Kudryavstev, Nicholas Brown
Releasing Date: 3 February 2012
Music Composers: Ronit Chaterjee
Lyricist: Yuki Ellias
Production House: Chiman Savla
Fun Fact: Yuki Ellias has written, acted and sung for the film
Why it Made News: This was one of the rare Bollywood black comedies
Atul Sinha (Sanyal) is driven by power and ambition and runs a defense and security business. Married to a young and wealthy woman, Sonia (Ellias), Atul is at the crossroads when he gets a chance to expand his business, but requires Sonia's property to take the big leap. Eventually, he decides to kill his wife but only with hilarious results.
https://images-na.ssl-images-amazon.com/images/M/MV5BMWM4MGRiZGItYjEyMy00NDMyLTk3ODUtMzI2YjA0ZjA4MTdlXkEyXkFqcGdeQXVyNDUzOTQ5MjY@._V1_UY268_CR10,0,182,268_AL_.jpg
Sorry, we couldn't find any posts. Please try a different search.