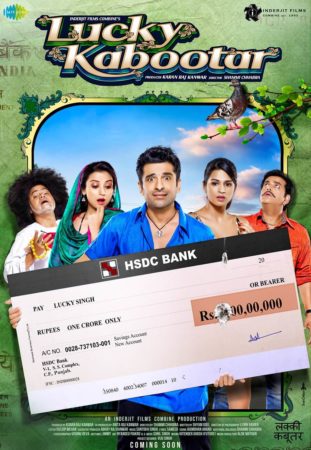 Movie Director: Shammi Chhabra
Cast and Crew: Ejaz Khan, Ravi Kishan, Shraddha Das, Sanjay Mishra, Kulraj Randhawa
Releasing Date: 18 April 2014
Music Composers: Santosh Singh
Lyricist: Sameer
Production House: Karan Raj Kanwar
Fun Fact: The first film that Sanjay Mishra and Ravi Kishen starred in together.
Why it Made News: Gaurav Chopra was supposed to play the role that Ejaz played.
Lucky (Ejaz) is a young man who loves the modern Kammo (Shradha Das). However, he ends up marrying Lakshmi (Kulraj Randhawa). A misunderstanding makes him think that his wife his dead and he tries to reignite his affair with Kammo.
http://pakistan.jobz.pk/wp-content/uploads/2014/04/328910xcitefun-lucky-kabootar-poster.jpg
Sorry, we couldn't find any posts. Please try a different search.