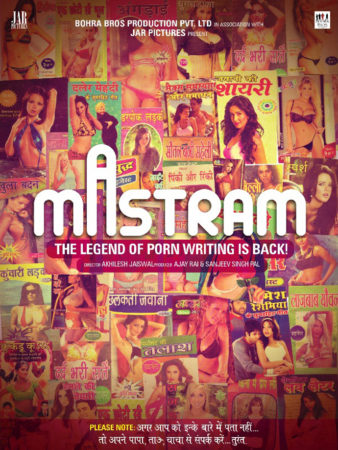 Movie Director: Akhilesh Jaiswal
Cast and Crew: Rahul Bagga, Tara Alisha Berry
Releasing Date: 9 May, 2014
Music Composers: Yo Yo Honey Singh, Saurabh Kalsi
Lyricist: Apurva Motiwale, Ashish Mhatre
Production House: Bohra Bros Pvt. Ltd, Jar Pictures
Fun Fact: Mastram featured rapper Yo Yo Honey Singh's Gujarati song Achko Machko, which was also the theme song in the film's trailer.
Why it Made News: Akhilesh Jaiswal as director and Tara Alisha Berry as the leading lady made their Bollywood debut with this film.
Rajaram (Rahul Bagga) is a clerk at a bank in a small town but harbours dreams of becoming a reputed writer and travelling to Delhi. His ambitions are supported by hs wife Renu (Tara Alisha Berry), and he finally decides to quit his job and write a book. However Rajaram finds it tough to get a publisher, when one publisher agrees, he demands to add glamorous elements to the story. Rajaram adopts the fictitious name of Mastram starts writing adult novels which become a huge hit. Rajaram achieves his dream of becoming a reputed writer but under the name of Mastram.
https://smedia2.intoday.in/dailyo//story/embed/201510/mastram-ajay-poster_102315084150.jpg