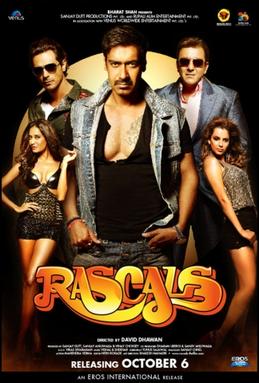 Movie Director: David Dhawan
Cast and Crew: Sanjay Dutt, Ajay Devgn, Kangna Ranaut, Lisa Haydon
Releasing Date: 6 October, 2011
Music Composers: Vishal-Shekhar
Lyricist: Anvita Dutt, Irshad Kamil
Production House: Sanjay Dutt Productions Pvt. Ltd, M/s Rupali Aum Entertainment Pvt.Ltd
Fun Fact: The storyline of Rascals was said to be similar to 1988 Hollywood movie Dirty Rotten Scoundrels.
Why it Made News: The release of Rascals kept getting delayed, initially to release in July, the film finally hit the screens in October.
Chetan Chauhan (Sanjay Dutt) and Bhagat Bhosle (Ajay Devgan) are con artists who rob Anthony Gonsalves (Arjun Rampal) . However the two end up as enemies and fall for Khushi (Kangana Ranaut) . In order to woo Khushi, Chetan and Bhagat come up with numerous tricks. Anthony tells the two cons that he has kidnapped Khushi and to free her, they will have to return all his money. When Bhagat and Chetan manage to bring all the money, they realise that Khushi and Anthony had conned them to get all the money. However, Bhagat and Chetan had stolen money from Anthony's home, returning him his own cash!