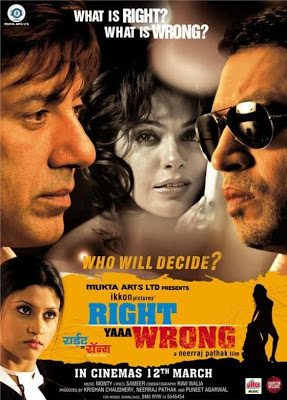 Movie Director: Neeraj Pathak
Cast and Crew: Sunny Deol, Irrfan Khan, Konkona Sen Sharma
Releasing Date: 12 March, 2010
Music Composers: Monty Sharma
Lyricist: Sameer
Production House: Mukta Arts Ltd, Ikkon Pictures Pvt Ltd
Fun Fact: The film had several plot points in common with 1995 Hollywood film Above Suspicion.
Why it Made News: Sunny Deol and Irrfan Khan worked together for the first time in this project, while the film was shot in 2008 its release kept getting delayed.
Ajay (Sunny Deol) and Vinay (Irrfan Khan) are two cops and good friends. Ajay's wife Anshita (Isha Koppikar) is murdered and Ajay is the prime accused while Vinay is handed the case. In a bid to get a higher position in his job, Vinay goes against Ajay. But Vinay's younger sister Radhika (Konkona Sen Sharma) is a lawyer and takes up Ajay's case. A strong friendship of Ajay and Vinay is at test while investigating the murderer of Anshita.
https://img.hindilinks4u.to/2010/03/Right-Yaaa-Wrong-2010.jpg
Sorry, we couldn't find any posts. Please try a different search.