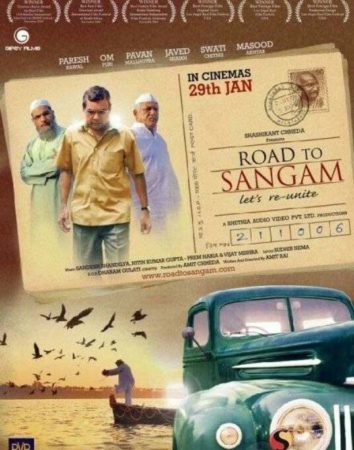 Movie Director: Amit Rai
Cast and Crew: Paresh Rawal, Om Puri
Releasing Date: 29 January, 2011
Music Composers: Nitin Kumar Gupta, Prem Haria
Lyricist: Sudhir Nema
Production House: Gipsy Films, Shethia Audio Video Productions
Fun Fact: Tushar Gandhi, the great-grandson of Mahatma Gandhi made a cameo appearance in the film.
Why it Made News: The Indian Post & Telegraphs department issued special envelopes when the film released.
Hashmatullah (Paresh Rawal) is given the job to repair an old Ford V8 engine, unaware that the car once carried the ashes of Mahatma Gandhi. One part of the ashes were forgotten to immerse in 1948, hence the car is being repaired to use it again for immersion. At the same time a Muslim boy dies during a protest and the Mosque calls for a strike. Hashmat is caught in a situation where he has to deliver the Ford car while a strike has been called by his community.
https://www.9xcinemas.com/wp-content/uploads/2017/10/Road-To-Sangam-2010.jpg
Sorry, we couldn't find any posts. Please try a different search.