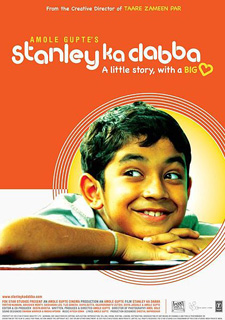 Movie Director: Amole Gupte
Cast and Crew: Divya Dutta, Partho Gupte, Divya Jagdale, Raj Zutshi, Amole Gupte
Releasing Date: May 13, 2011
Music Composers: Hitesh Sonik, Amole Gupte
Lyricist: Amole Gupte
Production House: Amole Gupte Cinema Pvt Ltd
Fun Fact: For making this film, Amole Gupte borrowed money from friends shot initially with a 5 member crew in a Mumbai school. A Canon EOS 7D was used to shoot the scenes during a workshop that was conducted in the school.
Why it Made News: The film was a small budget movie, yet it struck the right chord with the audience and critics alike. It marked the debut of Amole Gupte's son in Bollywood, who touched the heart of many with his performance.
Stanley (Partho Gupte) is a talented kid and liked by teachers and students alike. He is an orphan and works at his uncle's eatery shop, post school. He does not get his lunch to school, so his friends share their food with him. A school-teacher Verma (Amole Gupte), who never gets his own food to school, forces children to share their food with him. The kids name him Khadoos as he is mindless and inconsiderate. One day, he forbids Stanley (Partho Gupte) from entering the school until he brings his own tiffin box. When another teacher Ms Rosy finds out the truth from the kids, action is taken against Verma. Stanley finally gets his dabba and offers it to him, but Khadoos has resigned.
Sorry, we couldn't find any posts. Please try a different search.