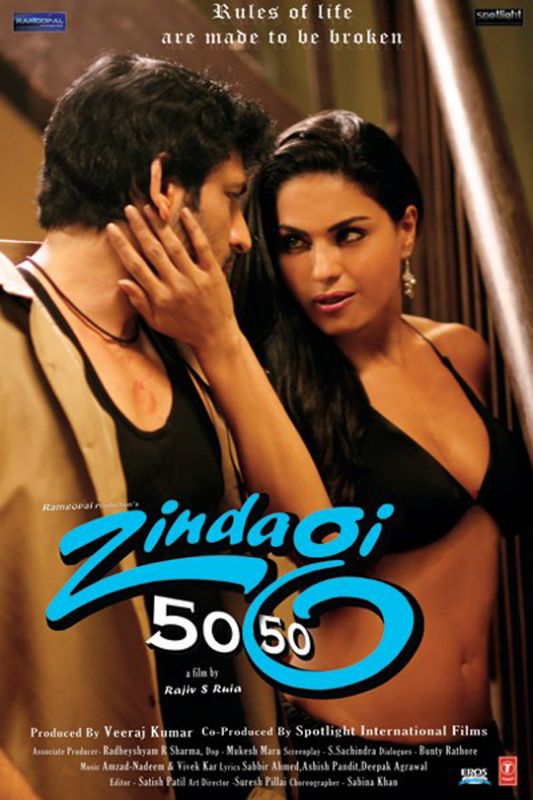 Movie Director: Rajiv Ruia
Cast and Crew: Veena Malik, Riya Sen, Rajan Verma, Arya Babbar, Supriya Kulkarni, Rajpal Yadav, Murli Sharma, Atul Parchure
Releasing Date: 24 May 2013
Music Composers: Vivek Kar and Amjad Nadeem
Lyricist: Deepak Agrawal, Shabbir Ahmed, Ashish Pandit
Production House: Veeraj Kumar
Fun Fact: This is one of the few Veena Mallik film that released in India.
Why it Made News: The critics spoke about the sleazy scenes in the film.
Zindagi 50/50 is the story of three women who have to make sacrifices and decisions in their lives because of their husband's ambition. Rupa (Supriya Kumari) is a housewife who's husband wants to start a business. Madhuri (Veena Malik)is a sex worker, whereas Nainja is a struggling actress. To fulfil her husband's demands, Rupa goes into the deeper, darker side of life.
https://i.pinimg.com/originals/a1/13/e4/a113e48e07db4d5e85d824455fa0cfcf.jpg
Sorry, we couldn't find any posts. Please try a different search.