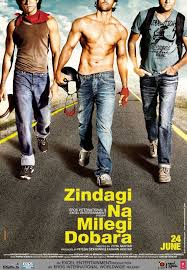 Movie Director: Zoya Akhtar
Cast and Crew: Hrithik Roshan, Abhay Deol, Farhan Akhtar, Katrina Kaif, Kalki Koechlin
Releasing Date: 15 July, 2011
Music Composers: Shankar-Ehsaan-Loy
Lyricist: Javed Akhtar
Production House: Excel Entertainment, Eros International
Fun Fact: Initially Imran Khan and Ranbir Kapoor were approached to play two leads in the film, but they declined the offer.
Why it Made News: A private screening of the film was hosted by Shah Rukh Khan, which was slammed by political party Shiv Sena for partying two days after Mumbai blasts.
Three friends Kabir (Abhay Deol), Imran (Farhan Akhtar) and Arjun (Hrithik Roshan) decide t go on an adventurous Road trip to Spain before Kabir married Natasha (Kalki Koechlin) . Arjun falls for Laila (Katrina Kaif), who is their diving instructor. While on the trip, a prank goes wrong and the three men end up in jail, Imran calls Salman Habib, his biological father who didn't want to take his responsibility and now resided in Spain. During the deadly bull run, the friends make a pack, Imran vows to publish his poetry, Arjun vows to go to Morocco with Laila and Kabir promises to tell Natasha that he does not want to marry her.
https://encrypted-tbn0.gstatic.com/images?q=tbn:ANd9GcTTX6LAiV2Dqt7TxDHB116G8a0uiVvV5UgOUI7ysYRdFDWCe8Gj