10 times fashionista Kangana Ranaut proved why she is the saree 'queen' of Bollywood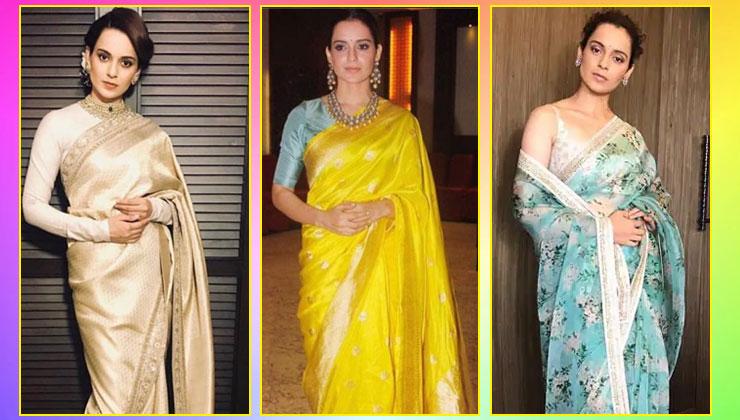 Image Source - Instagram
Kangana Ranaut has been making headlines these days with her office demolition and her support in the Sushant Singh Rajput Death Case. Apart from being an outspoken bindaas personality, Kangana has managed to enthral her audience with her spectacular acting and also her spot-on fashion sense.
Kangana Ranaut who is not only known for her versatile roles but also for her dramatic and impressive fashion choices. So today let's get going with about 10 times when Kangana managed to make heads turn.
1. Put on some Chiffon!
Kangana wore a beautiful pink floral printed chiffon saree with a matching sleeveless blouse. For accessories, she put on some pearl neckwear and that instantly gave this simple look a royal touch. Hair up in a chic bun and she looked extremely pleasing.
Image Source - Instagram
2. The Bright Side!
A loud, in-the-eye sunny yellow is what Kangana opted for in this one and paired it up in contrast with a mint blue blouse. She put on some ethenic earrings and a neckpiece and for sure made an extraordinary appearance.
Image Source - Instagram
3. Go Glam or Go Home!
A Navy bluish-black netted saree with studded embroidery and matching blouse for sure called for a loud woo! Small studs on the ears and side buns made her look like a combination of Sweet n Spicy!
Image Source - Instagram
4. The Winner Look!
Vintage roses on a white saree with a matching well-fitted blouse was an 11 on 10 in real for Kangana. Hair tied up in a bun with White studs looked gorgeous. But the loud lips made the entire look remarkable.
Image Source - Instagram
5. Keep it Simple, Silly!
When we think of the colour nude it gives a very simple neutral vibe and that's what Kangana picked up on this time; she wore a simple semi-sheer saree with a matching blouse and a pair of diamond studs. But, that can't be it for Kangana as she had to add a lil dash to the look and she made it happen with that perfect winged eyeliner with a short hairdo in soft curls.
Image Source - Instagram
6. Kanjeevaram is always a BIG YES!
The national award winner chose a golden Kanjeevaram saree and teamed it up with a white blouse and an ethenic choker. We must say she looked as assertive as she is!
Image Source - Instagram
7. Fiery in Manipuri!
Our pahaadi star opted for a double coloured Manipuri saree in off-white and maroon. She teamed this one up with a glossy parrot green blouse and kept her hair in defined curls. Her makeup was subtle here, in contrast with her loud and loved saree.
Image Source - Instagram
8. Who doesn't like Polka Dots?
Polka dot print has been in since forever and what's in fashion has to be in Kangana's closet too. Here she drapped herself in a black polka dot saree and teamed it up with a colourful floral printed blouse and some matching ethenic big sized studs. This look shouts a lot of elegance.
Image Source - Instagram
9. Cold Shoulder!
Kangana opted for an ivory-coloured saree here with a cold-shouldered ruffle sleeved blouse and matching blingy ear studs. She aced this casual one with complete panache.
Image Source - Instagram
10. The Blue Hue!
This Aqua blue floral printed saree that Kangana is wearing out here looks so comforting and soothing. This colour is a must-have for summers since it stands out and with the kind of poise Kangana has, we feel no matter what colour you make her wear, shes always gonna rock it.
Image Source - Instagram
So, guys, that's all for now. Stay hooked on to Bollywood Bubble for more updates on celebrity fashion and lifestyle!
Also Read: Kangana Ranaut shares pictures of her demolished office; says, "This is a rape of my dreams and my future"