Hot Or Not! Ranveer Singh's 10 most quirky outfits of all time
Image Source - Instagram
When it comes to fashion our Bollywood divas are always on the hit list but talking about the hunks we have a long list in here of that as well. Well, the men of Bollywood sure know how to make a statement, one such actor knows how to make an entrance. Yes, you're guessing it right, its Ranveer Singh.
Ranveer can make the boldest and unimaginable pieces of clothing seem high fashion.  Today we are going to talk about the 10 most quirky outfits that Ranveer Singh has worn and stunned everyone with confidence at its best.
1. The Super Mario look
Ranveer always manages to stand out in the crowd and when he opted for a Super Mario outfit, he made fans go gaga over this choice. Looking at these images the Super Mario music plays in the head and takes us back in time. What do you think?
Image Source - Instagram
2. The Ghaagra Pathani combo look
Here's another one coming from baba to make heads turn in a dilemma. Some laughed out loud and some applauded the efforts of not being gender-biased with outfits.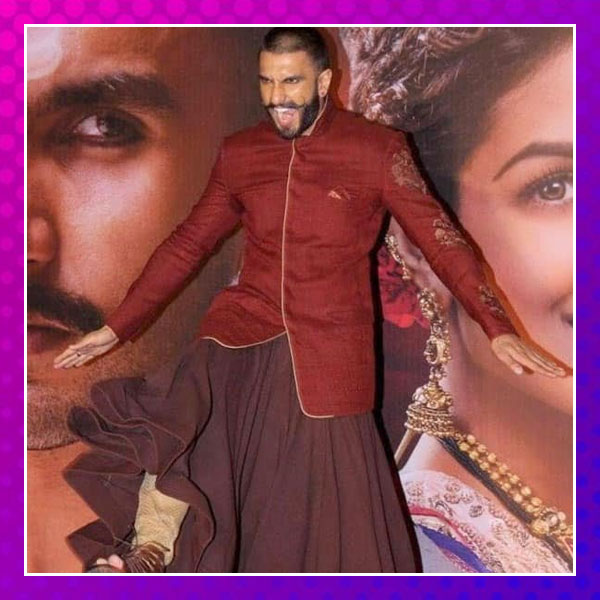 Image Source - Instagram
3. The Flowery Garden look
Ranveer opted for Blue flower print pyjamas with Yellow flower print T-Shirt and a Red flower jacket. He definitely looked like a walking bouquet but the happy colours surely put us to smile.
Image Source - Instagram
4. The we-don't-know-whats-going-on look
Just when we thought Ranveer wouldn't get anymore quirkier, he landed up looking like an alien in an all-white and a little black. Not everyone can carry it off the way he does and people will forever remember him for the vaguest dressing ideas. Many even called this the sperm look.
Image Source - Instagram
5. The Camouflage x 3 look
A military green camouflage trouser and blazer set with a brown camouflage shirt, we wonder what was he even thinking but this camouflage look managed to get him attention on the contrary. The tiger wouldn't be able the hunt Ranveer down but paps would surely!!
Image Source - Instagram
6. Shirt on Skirt look
Printed shirt with a striped blazer and, we were like that looks neat and the moment your eyes roll below and bam!! How can you forget its Ranveer Singh and that's a Grey Skirt !! Now we wonder if it's his own or he took it from the wifey!
Image Source - Instagram
7. The Red Hot Look
Red bellbottoms, red Blazer paired up with a sky blue shirt – it does sound loud but not when these are the only 3 colours on Ranveer Singh. We feel this one looks niche and surely brings back the 80s feels!
Image Source - Instagram
8. The Pink Hunk.
To whosoever said pink is a chic colour, here's Ranveer's answer to them in big capital letters saying Hell No! 'Ladies vs Ricky Bahl' literally, like who wore the pink outfit better? Jokes apart, but with the kind of outfits we've seen Ranveer in; this seems pretty much, "pretty" and also don't forget the polka dot tie.
Image Source - Instagram
9. The Cinema Lover Look
As much as we love cinema, actors entirely live for it, but when it comes to Ranveer he also wears it all over him.
Here's Ranveer's poster blazer set which has nearly more than 300 Bollywood film posters printed on it and paired up with a white shirt a black bow and a black waistcoat.
Image Source - Instagram
10. The Red Riding Hood
Neon green shoes, a pair of black pants, shades, speakers all cool.  In fact, we've heard of oversized hoodies and absolutely love them but what would you call this one? We would really want you guys to tell us in the comments below.
Image Source - Instagram
Which one is your favourite? Share your thoughts with us.
For more such rocking stories, stay tuned to this space for more such interesting updates.
Also Read: R Balki to Nitesh Tiwari – Bollywood film directors who actually hail from the ad world