Arjun Bijlani shares heart-breaking LAST MESSAGE to Sushant Singh Rajput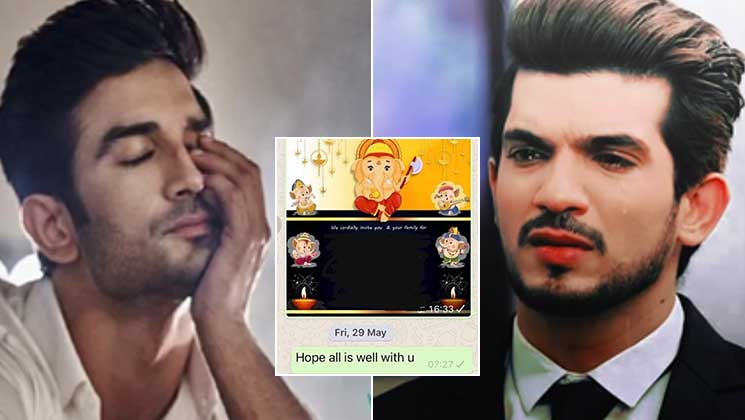 Image Source - Instagram
Sushant Singh Rajput passed away on 14 June. The actor committed suicide as he is said to be suffering from depression and stress. Everyone has been posting on their social media, mourning the death of the actor.  Television actor Arjun Bijlani took to his Instagram share his last message to Sushant and it is heart-breaking.
Arjun took to his Instagram to share the last message, he wrote, "Hope all is well with u". The caption read, "My last msg to him. Kuch toh feel hua tha yaar. Anyways tune ab padh liya hoga yaar. Humari balcony yaad rahegi .. khush reh ab . Hamesha bolta tha history likhoonga. Mujhe pata hai tu ab jahan hai khush hai … there is a lot of change that will happen because of you. Chal tc bhai . Like I always said. No rip for u (sic)."
Apparently, Sushant also made the last call to his 'Pavitra Rishta' co-star Mahesh Shetty before he committed suicide. Sushant had called Mahesh at 1:51 am that day but he missed. Mahesh woke up on Sunday and called Sushant back at 8:30 am but, Sushant was probably sleeping as he did not take the call. Sushant's call data records had revealed that the actor had woken up and dialled Mahesh at 9.30 am. But, the call didn't go through and next thing Mahesh heard the news of the actor committing suicide.
Sushant Singh Rajput's funeral happened yesterday at the Vile Parle crematorium at 4 pm. The funeral was attended by his family and Bollywood personalities.
Also Read: "Ankita Lokhande is devastated and crying inconsolably," reveals Sushant Singh Rajput's 'Pavitra Rishta' co-star Prarthana Behere