'Bigg Boss': A look at Salman Khan's style statements over the last 10 seasons
Image Source - Instagram
Ever since the premiere of the first season of 'Bigg Boss', one of the most controversial shows on Indian television, it has always been the centre of attraction for its entertaining concept and twists.
Salman Khan, who has joined the show as a host in season 4, has completed a decade on this popular reality show. Apart from entertaining the audience, Salman has also been giving us major fashion goals with his charming looks on the show.
Let's take a look at his style evolution over the last ten years
Salman Khan's style statements from 'Bigg Boss 4′ to 'Bigg Boss 13'
Season 4
Image Source - Instagram
The show has been garnering immense popularity for its cat-fights and the daily dose of drama. On the other hand, Salman has kept the audience hooked with his stellar performance as a host on the show. Here we got our hands on the picture from season 4 when Salman had kickstarted his 'Bigg Boss' journey. His look in season 4 was loved by million hearts, as his style statements included funky leather jackets and colourful shades.
Season 5
While most of the audience is hooked to 'Bigg Boss' for its catfights and the neverending drama, there's no denying in the fact that actor Salman Khan is a big reason behind the show's popularity. Accompanying him in season 5 was Sanjay Dutt. Here's a picture from 'Bigg Boss' season 5, where both actors were seen wearing suits paired with some of the bright colored shirts.
Season 6
Image Source - Instagram
Fans were left awestruck to see Salman is his charming self in season 6 of 'Bigg Boss'. Accompanying him on the show was this adorable parrot, to keep the audience hooked on to the show. Throughout the season we saw Salman wearing three-piece or simple suits. He looked handsome as usual in them.
Season 7
Image Source - Twitter
It was in season 7 of 'Bigg Boss', Salman had started to experiment with his style statements on the show. The actor was seen pairing some of the floral print shirts with bright colored jackets keeping it stylish and formal at the same time.
Season 8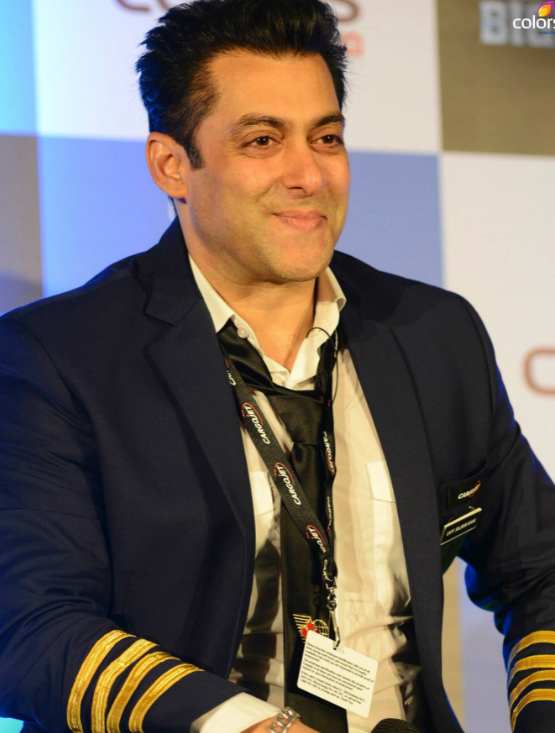 Image Source - Twitter
Salman has been keeping his fashion game on point with some of these formal suit-pants. The actor was widely loved for carrying a clean shaved look in 'Bigg Boss' season 8. His metal brooches garnered a lot of interest, which he used to pair with his formal outfits on the show.
Season 9
Image Source - Instagram
Salman, who is popularly known for his down to earth behavior, was seen carrying some of the basic rustic looks on the show. The actor was highly appreciated for his simplicity after season 9 of 'Bigg Boss'. He had to gain weight for one of his films and hence he sported the above look on the show.
Season 10
Image Source - Pintrest
The 'Bajrangi Bhaijaan' of Bollywood, Salman has surely mastered the art of looking super smart and handsome in suits. Here's a still from 'Bigg Boss' season 10, when yet again the actor stuck to shades of grey. By this time Salman had lost all the extra weight and he was rocking in the formals all over again.
Season 11
Image Source - inuth.com
Wearing a combination of a light blue jacket with dark shirts and pants, only a few actors such as Salman do it effortlessly. The actor's new style was much loved by his fans in season 11 of 'Bigg Boss'.
Season 12
Salman gave major fashion goals to those who love pairing jackets with tees. He even sported glittery jackets in this season. In the whole season 12, Salman was seen mix-matching the bright jackets with some bright shirts and he opted for a subtle look throughout the entire season. Also, don't miss out on his stylish French beard.
Season 13
Its been just a few days that the makers have premiered the first episode of season 13. And Salman was seen opening the show in his usual swag. As always the actor looked amazing in his formal ensembles.
Which of these Salman Khan look is your favourite? Do let us know.
For more such stories stay hooked on to Bollywood Bubble.
Also Read: Here's what the former 'Bigg Boss' winners are up to nowadays