Hrithik Roshan to star in Amitabh Bachchan's 'Satte Pe Satta' remake?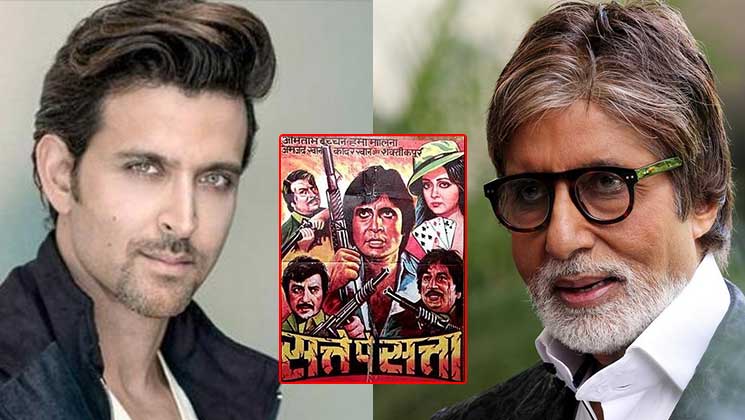 It is the season of remakes and biopics in Bollywood, isn't it? Over the last 4-5 years, we have seen filmmakers making a concentrated effort towards making biopics and remakes. Now, according to reports, Hrithik Roshan could be starring in Amitabh Bachchan's classic 'Satte Pe Satta's remake. Director and ace choreographer Farah Khan is helming the remake of 'Satte Pe Satta'.
According to an Entertainment portal, Hrithik Roshan has been approached for the role. A source close to the development told the portal, "Farah [Khan] has already discussed the idea with Hrithik Roshan, who has also given a verbal nod to the project. Farah has reworked the whole script and designed it to suit contemporary times. They needed a superstar who would command the same screen presence as Big B and Duggu ( Hrithik) was their first choice."
The source further added that Hrithik has agreed to do the film and given his approval. The source said, "The final modalities will be worked out soon and the actor will also make an announcement right after that. They didn't want someone too old or too young for this movie. The hero has to look the eldest of the lot and still not too old for marriage. They wanted someone in their 40s as the role would fit them perfectly. In fact, even Amit ji was 40 when Satte Pe Satta released."
For those who are unaware, 'Satte Pe Satta' had released in 1982 and starred Amitabh Bachchan and Hema Malini in lead roles.
Meanwhile, Hrithik Roshan is currently awaiting his next release 'Super 30'. The film is based on the life of mathematician Anand Kumar. 'Super 30' is being directed by Vikas Bahl and will be releasing on July 12, 2019.
Stay tuned to Bollywood Bubble for all the latest news and updates.
Also Read: Hrithik Roshan: The emotional journey of my characters are very similar to my own emotional journey