Baby Taimur Ali Khan adds cuteness to his grandma Babita's birthday celebration – View pic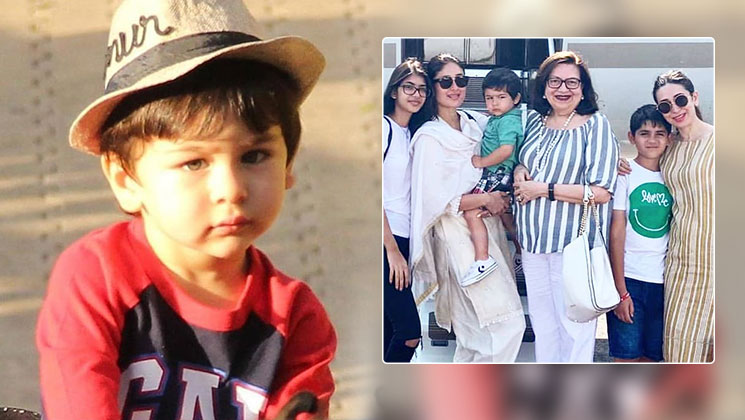 Image Source - Instagram
Babita Kapoor celebrated her 72nd birthday in style. The veteran actress had a great time with her daughters and her grandchildren.
Taimur Ali Khan, as usual, took all the limelight. The adorable little kid was clicked in a photograph and it just makes it look better.
In the photo, we have Karishma Kapoor with her two children (Kiaan and Samaira), Kareena Kapoor Khan and her son Taimur and the birthday girl Babita Kapoor. This photograph just reveals all the joy and fun they had with their smiles reaching their eyes.
The two daughters have always looked up to mommy dearest. Back in 2016, in an interview with Hindustan Times, Kareena Kapoor stated that her mother meant the world to her. She said, "For me, my mother is like God. She is, literally, the person I pray to. She is the sunshine and the oxygen in my life." Kareena also added, "She has done everything for my sister and me. She is a true woman of substance. All I know is that I can't live without my mother. The mother-child relationship is one that you can't put into words."
On the other hand, Karishma had posted a picture of an autographed picture of her mother.
The caption read as, "Happy Birthday Mom ❤️ we love you the most.
Thank You for always reminding me that our fans are most precious.
Back in the day, actors would personally autograph pictures of themselves and send it as a reply to all their fan letters.
It was a personal gesture to reciprocate the love and blessings that were sent via fan mail. Non digital age 🙌🏼"
Be it all these wishes or the small getaway, Taimur surely adds all the sparkles to Nani's birthday.
Also Read: Madhur Bhandarkar has THIS to say on making a film on Taimur