Farhan Akhtar's GF Shibani Dandekar kills a troll with her sarcasm who slammed her for wasting resources
Image Source - Instagram
Farhan Akhtar and Shibani Dandekar have been one of the most talked-about couples of Bollywood these days. While Farhan usually keeps his thoughts to himself, Shibani is someone who is usually outspoken and time and again hits out to trolls to teach them a lesson. This time she has once again done the same.
Shibani took to social media to share a video where she was seen baking cookies at home with the help of a professional chef Kelvin Cheung. She captioned the video as, "Cookie baking FLOP!!! Probably the worst baking in the world! Know when to stop! 👩🏽‍🍳 🙅🏽‍♀️🍪 @chefkelvincheung did his best to to help via facetime! 😂 but some people are beyond help! ps featuring our very own @bodhi.rye watching his aunt totally screw up 🙄🤦🏾‍♀️ (sic)." Check out the video right here:
A troll, trying to be over-smart and showing societal concerns, wrote on the post, "As much as baking helps you relieve stress, I understand. But please understand that resources are quite limited for a lot of people. And baking fails are fails in which a lot of ingredients get wasted. And they could have been used by someone else. I just would implore everyone to be mindful about it (sic)."
Shibani didn't waste any time to hit back at the troll and killed it with her witty sarcasm. She wrote, "I hear you and all of it was eaten even though it did not taste good (sic)." Have a look at the conversation here: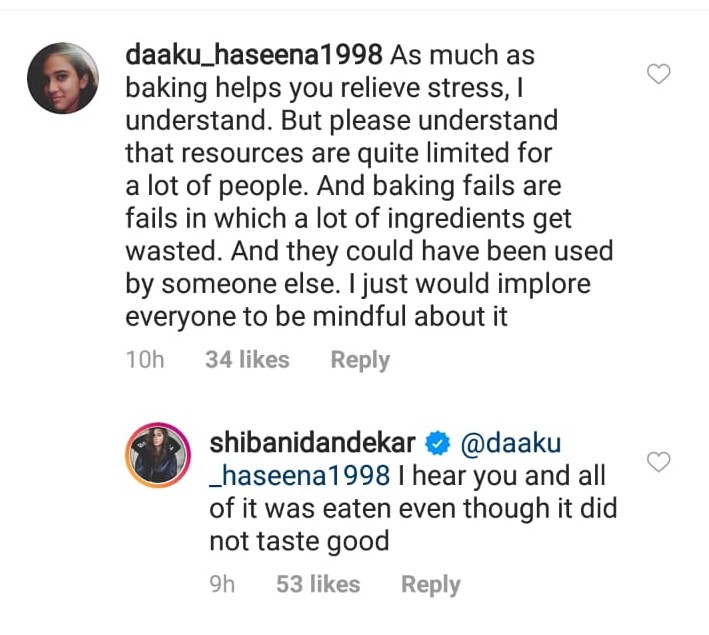 Image Source - Instagram
The troll realised the mistake and wrote back politely, "then there's clearly more to you than meets the eye. And we clearly need more people like you 💞❤️ (sic)."
Well, that's the way a troll should be decimated to the ground! Great job Shibani! You go, girl!
Also Read: Pooja Gor blasts a troll for slamming her monokini look from Maldives amidst Coronavirus crisis