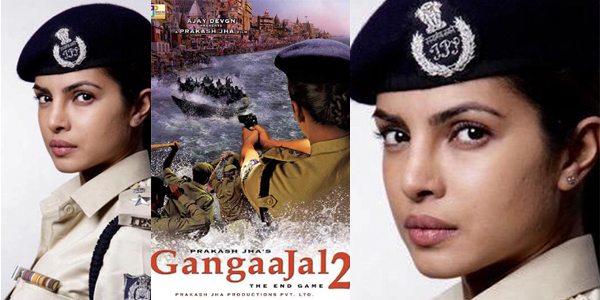 Filmmaker Prakash Jha's hit film 'Gangaajal' Ajay Devgn playing a cop. Now the sequel of Gangaajal has Priyanka Chopra as the protagonist. She will be playing the character of Abha Mathur, a tough, righteous superintendent of police of a fictitious district named Bankipur in the northern part of India.
Speaking about the character of Abha Mathur, Prakash Jha said, "In her career, she was being ignored as she did not use any political pull and was thus sent to the district of Bankipur with the brief to not disturb the established clique between the local businessmen, politicians and the police. She was told how it was a golden posting where all she had to was sit on the chair and have people giving salaam to her. But when she gets there, she has to fight not just the menace of the district, but also the functioning of her own police that is completely mired in corruption."
Jha further added, "She turns tables against the existing system there and becomes a problem. She also cannot be again transferred as the elections have been announced. The sequel thus deals with the current dictum faced by the police, 'Efficiency is crime, Inaction is virtue.' Today if a cop arrests someone, he has to not only be answerable to his bosses, but to the legislature, to human right activists, to journalists and if he is saved from the rest, then even to the judiciary, who may take you to task for your actions. Abha Mathur kicks this mentality in the film. And that creates problems for her, but she fights it out."
Prakash Jha is currently shooting Gangaajal in Bhopal and hopes to release it by the year end.