Actress Kangana Ranaut's Twitter account has been suspended for violating rules. The Queen actress' account was suspended after she made a series of controversial tweets.
The actress had tweeted in support of President rule in Bengal. She apparently even urged Prime Minister Narendra Modi to "tame" Mamata Banerjee using his "Virat Roop" from the "early 2000s" in Bengal.
Kangana suffering from verbal diarrhoea is not new. Previously too the National award-winning actress has been accused of causing religious disharmony because of her tweets. Following BJP's loss in Bengal elections, the actress had recently tweeted, "This is horrible…we need super gundai to kill gundai…she is like an unleashed monster, to tame her Modi ji please show your Virat roop from the early 2000's…#PresidentRuleInBengal(sic)."
[image_source id="1004094″ align="alignnone" width="600″]
[/image_source]
Her tweet caused an outrage and soon the Twitter suspended her account.
[image_source id="1004089″ align="alignnone" width="455″]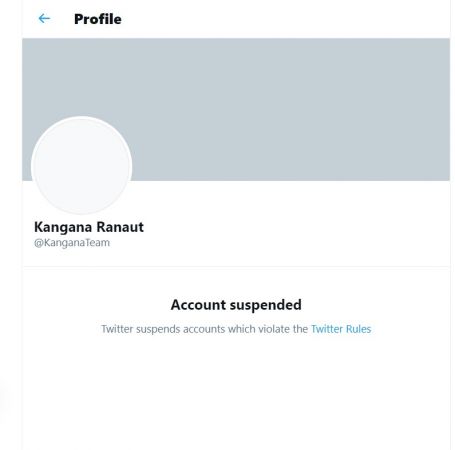 [/image_source]
On Sunday, Mamata Banerjee-led Trinamool Congress (TMC) won the recent assembly elections in Bengal. Following the results, Kangana lashed out at Mamta Banerjee for the violence that took place in the state. She accused TMC of inciting violence in the state and even demanded a president rule in Bengal. The actress has been sharing tweets using hashtags 'Bengal Burning' and 'Bengal Violence'.
Talking about suspending Kangana's account, Twitter Spokesperson told WION, "We've been clear that we will take strong enforcement action on behaviour that has the potential to lead to offline harm. The referenced account has been permanently suspended for repeated violations of Twitter Rules specifically our Hateful Conduct policy and Abusive Behaviour policy. We enforce the Twitter Rules judiciously and impartially for everyone on our service."
This is not the first time when Kangana has been criticised for her insensitive remarks. During the nationwide farmers' protest too several cases were filed against her for passing baseless remarks. In fact, last year a petition was filed in the Bombay High Court seeking suspension of Kangana's Twitter account for inciting communal hatred.
Also Read: COVID 19: Rakhi Sawant's request to Kangana Ranaut: Please serve the nation; You have so much money