'Laxmmi Bomb' Vs 'Radhe' on Eid affecting 'Baaghi 3' terribly; single screen owners are mighty pissed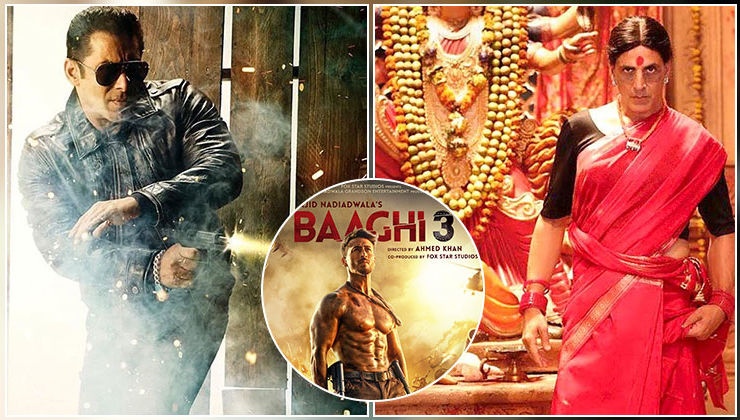 Image Source - Instagram
The film industry is a very competitive world. Here equation changes every single Friday. Tiger Shroff's recently released 'Baaghi 3' has become a victim of this cut-throat competition. Yes, the film is facing the brunt of the upcoming clash between 'Laxmmi Bomb' and 'Radhe'.
Reportedly several single screen and multiplex exhibitors of Delhi-UP belt have decided to do away with screening 'Baaghi 3' in their territory. And the reason why they have taken this decision will leave you amazed.
According to a report in Bollywood Hungama, several single screen and multiplex exhibitors in Delhi-UP territory are pissed with Fox Star Studios. The reason being, the studio apparently presented the exhibitors with a condition that if they wanted 'Baaghi 3' then they will have to allocate all 4 shows to their upcoming film Akshay Kumar starrer 'Laxmmi Bomb' which is releasing alongside Salman Khan's 'Radhe'.
Now for the exhibitors both – 'Laxmmi Bomb' and 'Radhe' are important since they cater to a mass audience, so naturally, they were not willing to accept Fox's condition. Instead, they offered to allocate equal shows to both 'Laxmmi Bomb' and 'Radhe', however, Fox studio didn't relent on their condition.
So their plan to arm-twist the exhibitors backfired as they all have decided to neither screen 'Baaghi 3' nor 'Laxmmi Bomb'. Reportedly the exhibitors in the Delhi-UP territory have collectively declined to comply with Fox's condition. An exhibitor from the same belt was quoted saying in Bollywood Hungama as, "We exhibitors understand that both films look promising and massy and hence we decided to give two shows to Laxmmi Bomb and Radhe – Your Most Wanted Bhai each. But now we have decided that we won't even give even one show to Laxmmi Bomb. We all want to show Radhe – Your Most Wanted Bhai and not just that, we also plan to get more exhibitors on board."
He went on to add that since the studio has spoiled their Holi, now they will spoil their Eid. A single decision by the studio will badly affect the business of both 'Baaghi 3' and 'Laxmmi Bomb'. Now let's see if they modify their condition. After all, nobody likes to lose their hard-earned money.
Meanwhile, talking about the clash between 'Laxmmi Bomb' and 'Radhe',  trade expert Taran Adarsh told Bollywood Bubble that it is something that is going to be massive but until the trailer comes out, no one can predict which movie will have the upper hand.
Also Read: 'Radhe': Yash Raj Films to distribute the Salman Khan starrer in India and overseas