Priya Prakash Varrier on 'Sridevi Bungalow' controversy: I would rather stay away from the negativity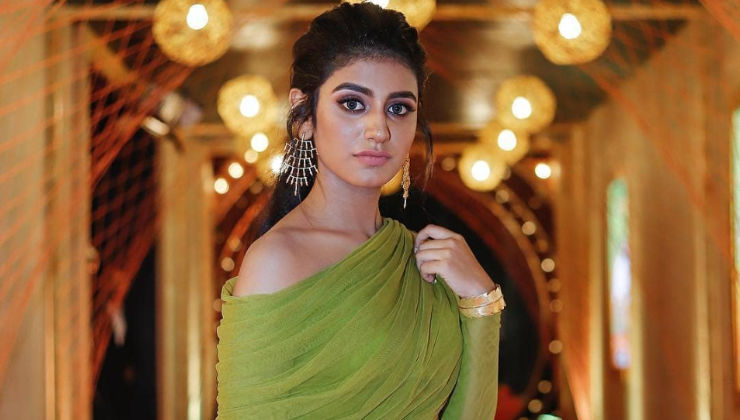 Image Source - Instagram
It has been over a month since Priya Prakash Varrier starrer 'Sridevi Bungalow' has been landed into the massive trouble. It all started when the teaser of the film was released. In the teaser, we can see Priya playing a superstar who enjoys her life until one unfortunate incident changes everything. In the end, Priya's character is seen lying dead in a bathtub which has created a stir as it's similar to how Sridevi died in real life. Later, Boney Kapoor had slapped a legal notice to the makers and demanded changes to be made to the film's title among other things.
Reacting on the same in a recent interview with Indian Express, Priya Prakash Varrier shared her thoughts on the row and cleared the air about the notice. Priya further said that she heard about it from others but hasn't received any notice in person.
The actor said, "I wouldn't want my movie becoming a controversy. At the end of the day, everything is publicity. But still, I would rather stay away from the negativity. It's up to the director and the producer to handle those issues. I am just playing the character that has been given to me."
On being asked if there are any references to Sridevi's demise or any of her other life incidents, Priya clarified saying, "If the teaser shows any familiarity then that is just an element that would make the audience want to watch the movie."
She also noted that there must be something that creates curiosity for people to go and watch the film. "So, that is just the director's imagination and creativity. I wouldn't want my movies to get into controversy," Priya added. In the end, the wink-girl clarified that she chose the film because it had a female-oriented story and thought this would help her in showing people the range of her performance.
Also Read: Boney Kapoor won't rest until the film 'Sridevi Bungalow' is aborted: Read here why