Priyanka Chopra's brother Siddharth Chopra's ex-fiancee Ishita Kumar gets married; view pics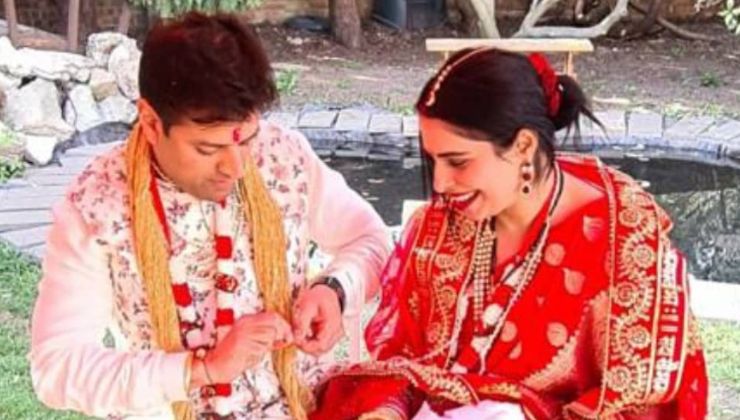 Image Source - Instagram
Priyanka Chopra's brother Siddharth Chopra's ex-fiancee Ishita Kumar got hitched in London. Taking to her Instagram handle, she shared a couple of pictures from her wedding. In the pictures, Ishita could be seen all smiles as she was seen doing the wedding rituals with her husband. She was in a red saree, chuda, sindoor and mangalsutra. Ishita looked stunning in the pics. "All my love ❤️," Ishita captioned the pics.
Take a look at the wedding pics of Ishita Kumar.
View this post on Instagram
Image Source - Instagram
For the unversed, Priyanka Chopra's brother Siddharth Chopra had a roka ceremony with Ishita but the wedding was called off. Post that, Ishita had moved back to London. Post the engagement was called off, Ishita had announced "new beginnings" with pictures from her get-together with friends. She had also deleted all the pictures of the roka ceremony and her bachelor party, and also her pics with Siddharth.
There were reports that the wedding was called off at the last minute as Ishita was to undergo emergency surgery. But later, Priyanka's mother Madhu Chopra told Spotboye that her son Siddharth said he was not ready for marriage and he needed more time. She also told Pinkvilla that Siddharth and Ishita mutually called it off.
Siddharth and Ishita's roka was in February 2019. Priyanka had even shared pics from the ceremony on her Instagram handle.
View this post on Instagram
Ishita has moved on in her life and we are happy for her. Wishing her a happy married life! We wish her to share more pictures from the wedding. Till then you guys stay tuned to this space.
Also Read: Priyanka Chopra's mom Madhu Chopra on Siddharth's wedding being called off: My son was not ready for marriage